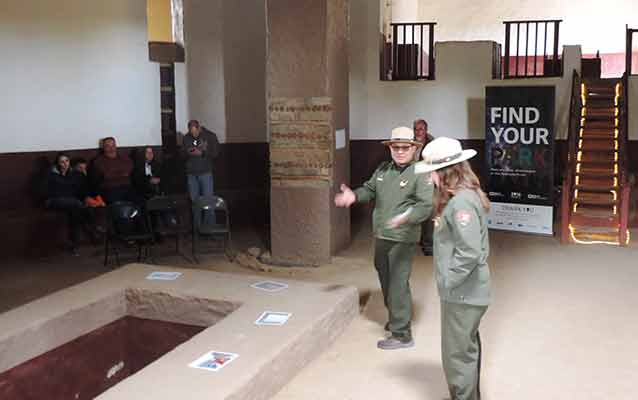 Danielle York
Quick Facts
GETTING READY FOR 2016:

Action Item:

Arts Afire

Also Promotes:

History Lesson

Year Accomplished:

2016
Saturday, April 16th opened National Parks Week with the first inaugural American Indian Cultural Arts Festival at Aztec Ruins National Monument. This event featured an array of Project N.A.T.I.V.E! local cultural demonstrators from neighboring Navajo and Pueblo tribes. Cultural arts included pottery, basketweaving, woodcarving, silversmithing and painting. Although chilly temperatures and intermittent rain presented a challenge, the event was attended by about 200 visitors. 
Special programs during this event included a CCC presentation by area historians, a Centennial facilitated dialogue titled "National Parks Treasure Hunt" by park staff, and more. To connect the predominant theme of ancestral Pueblo cultural history to the 2015 trail segment interpreted as the Old Spanish Trail, period-costumed aparejos with live burros roved during the event and gave "Burro Packing" demonstrations. 
Park partnerships were foundational to this event, including Project N.A.T.I.V.E!, the Friends of Aztec Ruins, Western National Park Association, AmeriCorps/VISTA staff and the AZRU volunteer program.