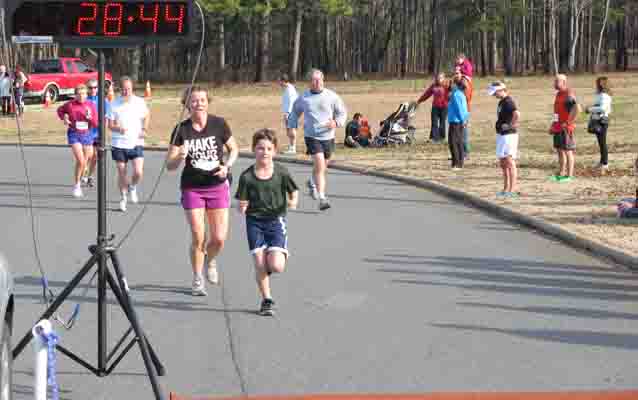 NPS Photo
Quick Facts
GETTING READY FOR 2016:

Action Item:

Take a Hike, Call Me in the Morning

Also Promotes:

Eat Well and Prosper

Year Accomplished:

2012
For twenty-seven years, Cowpens National Battlefield has worked with the Spartanburg Running Club to turn a race to capture two British grasshopper cannons into an annual 1-mile fun run and a 5k run/walk. 
On January 17, 1781, the American and British armies met and fought at a well-known pasturing area known as the Cow Pens. The Americans won in less than an hour. At the end of the battle, two Continental officers raced to capture the British light 3-pounder "grasshopper" cannons. Captain Anderson of Maryland won the race when he used his spontoon to vault forward and leap upon one of the grasshoppers. Captain Kirkwood of Delaware captured the other. 
In 1985, as part of the Cowpens National Battlefield's anniversary celebration, the park decided to include a walk/run along the park's gently rolling auto loop road and name it the Race for the Grasshopper in honor of the race to capture the cannons at the end of the battle. The event has grown so large that the park eventually had to separate the race and the main portion of the event to different dates. 
Today Cowpens National Battlefield works with the Spartanburg Running Club to promote "Healthy Parks Healthy People" through physical activity in the outdoors for people of all ages. This year the fun run and 5k were held on January 7, and the youngest person to participate in the 5k race was 8-year old Daniel Johnson, of Spartanburg, SC, and the oldest was 76-year old Flora Fulton of Greenville, SC. Families ran the race together, and children and parents were seen encouraging each other as they crossed the finish line together. While most of the participants are from within an hour's drive of the park, some come from as far away as California and Virginia to participate in the annual event.  
The participants enjoyed healthy snacks of bananas, bagel slices, and juice prior to the awarding of prizes. This year the overall fastest time for the 5k was 15:23, accomplished by 22-year old Adam Freudenthal of Spartanburg.