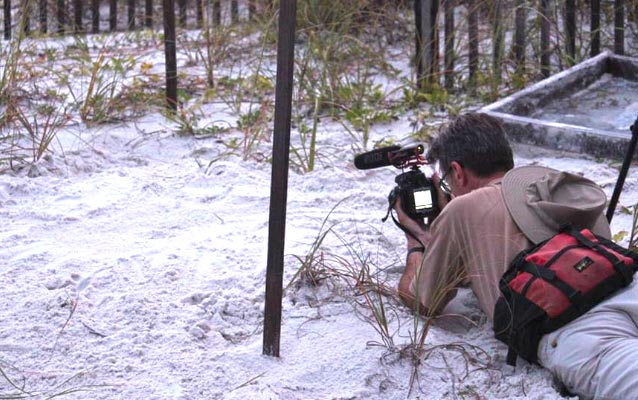 NPS Photo
Quick Facts
GETTING READY FOR 2016:

Action Item:

Next Generation Stewards

Also Promotes:

Go Digital

Year Accomplished:

2015
Gulf Islands National Seashore was proud to host the Outside Science (inside parks) film crew July 23 – 28, 2015.  The crew, led by Ron Bend from Colorado State University, specifically picked this week in hopes of getting footage of baby sea turtles hatching, and to focus on the work of the Turtle THiS (Teens Helping in the Seashore) citizen science project.
The Turtle THiS program engages local high school students in actual scientific research, collecting night sky data and measuring the amount of artificial light near sea turtle nests.  These students not only develop a wider understanding and appreciation for sea turtles and other park resources, they are also expanding the circle of stewardship within their community.
Using infrared equipment, the crew captured fantastic footage of baby loggerheads emerging from the sand and crawling to the Gulf of Mexico.  The park posted some of this footage on Facebook, and quickly had 184,780 views, 5,159 shares, and over 700 new page likes.