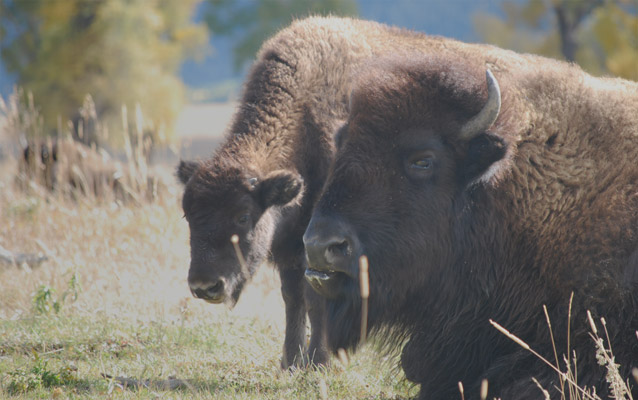 National Park Service
Quick Facts
GETTING READY FOR 2016:

Action Item:

Back Home on the Range

Also Promotes:

Back Home on the Range

Year Accomplished:

2013
In February 2012, staff at Yellowstone National Park initiated consultation with the Fort Belknap Indian Reservation and the InterTribal Buffalo Council to periodically provide them with bison for direct transfer to (1) approved processing facilities and subsequent use for cultural and nutritional purposes, (2) terminal pastures from which bison would be harvested within 120 days, and (3) operational quarantine facilities.  An agreement was reached with the InterTribal Buffalo Council for transferring surplus Yellowstone bison to processing facilitiers during winter 2013.  We are currently working with the federal, state, and tribal agencies involved with the management of Yellowstone bison on a protocol that describes detailed roles and responsibilities for future transfers of bison to quarantine facilities on tribal lands.  
Yellowstone National Park and the Bureau of Indian Affairs (BIA) jointly initiated additional tribal consultations in September and October 2012 to engage the park's 26 associated Native American tribes. This communication served as an invitation for tribes to provide feedback on receiving surplus Yellowstone bison for nutritional and cultural purposes and to express interest in partnering with NPS to develop quarantine facilities that can be used for establishing new conservation and cultural herds of brucellosis-free Yellowstone bison.
Opportunities for short-term relocation of bison were identified at Fort Peck and Fort Belknap. Most tribes are interested in feeding bison to their members. Some expressed interest in attaining live bison to manage themselves on tribal lands.  Tribal concerns included the need for financial resources to install infrastructure and hire staff to manage bison herds.  Some tribes shared opinions about potential conflicts with treaty hunting rights if bison are culled from the wild population by the NPS.  A discussion evolved that predicted quarantine and translocation are not long-term population management tools.  Additionally, YNP staff conducted stakeholder communications with the Intertribal Buffalo Council's (ITBC) Board of Directors and the Montana and Wyoming Tribal Leader's Council regarding partnership opportunities between NPS and American Indian tribes to share Yellowstone bison with nations that are interested in ecological, educational and cultural connections with wild bison. The BIA will engage in a more comprehensive consultation with a larger group of Federally-recognized tribes to gauge interest in establishing new bison herds on tribal lands.