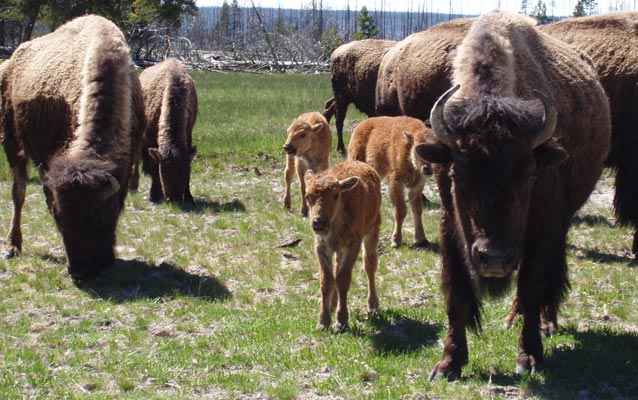 Yellowstone National Park
Quick Facts
GETTING READY FOR 2016:

Action Item:

Back Home on the Range

Also Promotes:

Back Home on the Range

Year Accomplished:

2013
A review of the genetic resources preserved in Department of the Interior bison populations determined that the 12 DOI managed bison herds are irreplaceable and comprise the foundation for long term conservation of plains bison.  Herds that show no evidence of cattle ancestry are the highest priority to protect from genetic mixing with other herds and to preserve the existing resources for the next century and beyond it will be important to develop satellite herds and manage bison from a metapopulation perspective. 
During 2005 through 2008, 213 Yellowstone bison calves that tested negative for brucellosis exposure were transferred from the NPS to the Animal Plant Health Inspection Service (APHIS) and Montana Fish, Wildlife, and Parks.  These bison were moved to a research quarantine facility north of Yellowstone National Park to evaluate if they would remain free of brucellosis infection through at least their first pregnancy and calving in the absence of further exposure to brucellosis infected bison.
The quarantine feasibility study (conducted from 2005 through 2011) was successful and the surviving original bison and their offspring are considered brucellosis-free by the state of Montana and APHIS.  The state of Montana relocated 87 of these bison to the Green Ranch owned by Turner Enterprises Inc. in February 2010 to be managed as a satellite population while the state conducts an environmental planning process to complete a statewide bison management conservation plan (final decision anticipated in 2015).  At that time the Turner Enterprises Inc. will return to Montana Fish, Wildlife, and Parks all of the surviving original bison from the quarantine feasibility study and 25% of their offspring.  Also at that time, Turner Enterprises Inc. will gain ownership of the remaining offspring.  There are currently 190 bison at the Green Ranch in Montana. 
The remaining 61 bison that completed the quarantine procedure were relocated to the Fort Peck Indian Reservation in northeast Montana in March 2012.  Per agreement between the state and the tribe, up to 25% of the progeny of these bison will be made available to the state of Montana for establishing wild bison populations in Montana.  There are currently 72 bison at the Fort Peck Indian Reservation.  Wildfires claimed the lives of 10 bison in this satellite population in 2012.  Thirty-one of the original bison transferred to Fort Peck were supposed to be transferred this year to the Fort Belknap Indian Reservation in Montana once they had their facilities constructed.  However, a Montana judge granted an injunction blocking further relocation of the bison.  This transfer to Fort Belknap is still pending legal action. 
Both of these satellite populations are continuing with five additional years of assurance testing to increase public and scientific confidence that the bison are truly brucellosis-free following the quarantine procedure.   No evidence of brucellosis infection has been discovered in the assurance testing process.