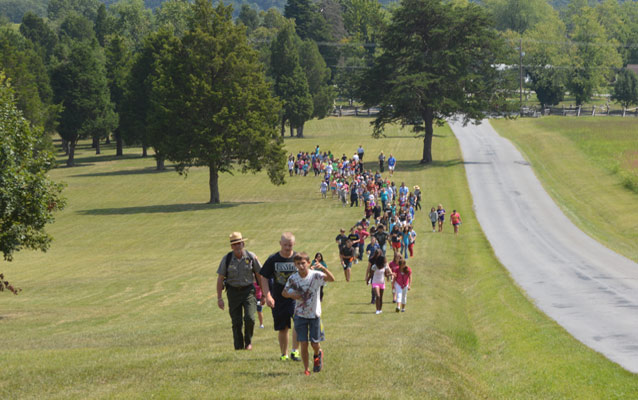 NPS Photo (Autumn Cook)
Quick Facts
GETTING READY FOR 2016:

Action Item:

Take a Hike, Call Me in the Morning

State:

West Virginia

Year Accomplished:

2012
Since 2007, Harpers Ferry National Historical Park has partnered with the local community, specifically Harpers Ferry Middle School and Harpers Ferry Family Medicine, to promote healthy activity in the form of hikes in the national park. In the first year of this program alone, 700 students, teachers, and family members hiked over 3000 miles. Today, the Jefferson County Hike Program serves all the middle schools in Jefferson County, West Virginia and some of the elementary schools.  This program offers an outdoor hiking experience linked to West Virginia's curriculum standards for Jefferson County students and their teachers.
 The mission of the Jefferson County Hike Program is to reconnect students with nature in hopes of creating a lifestyle of environmental stewardship and physical activity to fight obesity in children.  The goals of the Jefferson County Hike Program include effectively promoting and encouraging physical fitness, natural and cultural investigation and environmental life skills as well as promoting these educational goals and objectives to the local student population.  Through collaboration between teachers, volunteer hike leaders and Harpers Ferry National Historical Park, these goals can be achieved and our mission can be a success.  By linking this goal to West Virginia curriculum standards, an educational component is included that enables teachers to teach the curriculum while participating in an outdoor hike.
 Harpers Ferry National Historical Park continues to strive toward being a healthy hiking location for area students and citizens - leading 20 hikes with Jefferson County schools in the 2011-2012 school year. The original partnership with Harpers Ferry Medicine is strong as ever, with Dr. Mark Cuccuzzella leading several hikes every year.