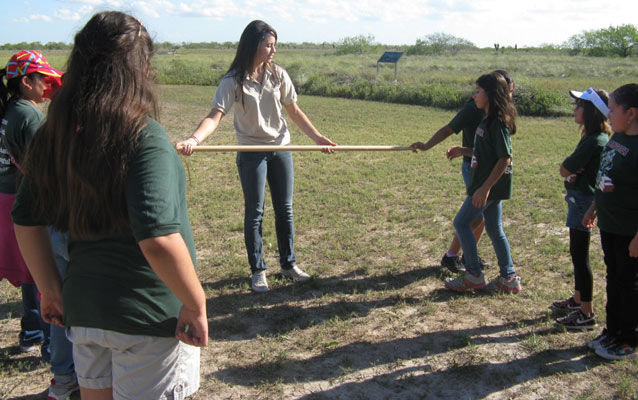 NPS
Quick Facts
GETTING READY FOR 2016:

Action Item:

History Lesson

Also Promotes:

Ticket to Ride

State:

Texas

Year Accomplished:

2012
During the 2011-2012 school year, a class of senior students from Lopez High School in Brownsville, Texas served as the first class of Student Rangers. After receiving training on the history of the park and interpretive techniques, the students made regular visits to the park to assist with interactive programs for elementary school children from the district.
The program served a dual purpose. With the assistance of these Student Rangers, Palo Alto Battlefield was able to host thousands of students on extended field trips at the site. Many of these trips could not have been accommodated without the aid of the high school class.
At the same time, the project was a learning experience for the older students. Many of these students received their own introduction to some important events in local and national history and discovered that the best way to learn about the topic was to teach others. These students, who are considering careers in education, also gained valuable experience as they pursue that goal. With the assistance of their teacher, Modesta Solis, the students continually worked to improve their programs and to devise better ways to reach out to a young audience. "It was one of the most educational yet fun experiences I've ever had," said Alondra Rosales, one of the Student Rangers. "We got to learn historical facts about the National Park Service and Palo Alto and we gained very valuable hands-on experiences as we worked with grade school kids in a professional work environment."
All costs associated with the program were funded by a National Park Foundation Park Steward grant.