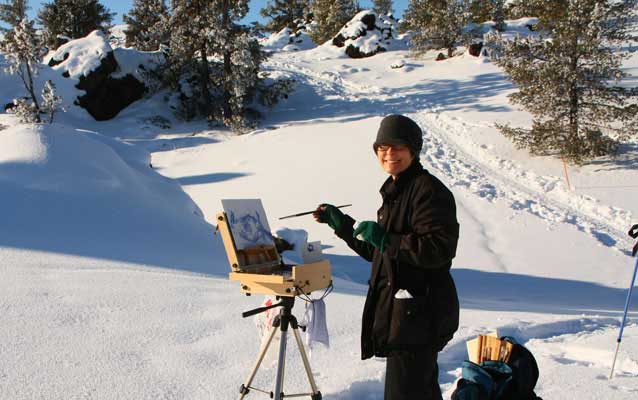 Doug Owen
Quick Facts
GETTING READY FOR 2016:

Action Item:

Arts Afire

Year Accomplished:

2013
Artists have played a part in national parks since the 1870's when famed Hudson River painters played a vital role in documenting the majestic landscapes of the west. It was through their works of art that the public came to see these special places in America-places destined to become the first national parks. This tradition continues today in many units of the National Park System including here at Craters of the Moon National Monument and Preserve.   
This winter Shelley McCarl became the monument's second Artist-in-Residence. Shelley teaches art in Boise and is an accomplished and award-winning painter and pastel artist. She describes her work as follows: 
"In my landscape painting, I focus on exploring the interrelationship between land and light, and in capturing specific colors and angles of light under various seasonal or atmospheric conditions. When visiting the Monument, I have found that the low-angled winter light creates beautifully-colored shadows on the snow."  
A number of national park units have hosted Artists-in-Residence (AIR) programs. Craters of the Moon's AIR program began in 2010 with Cindy Tower, who interpreted the lava landscape with her highly textured oil paintings. Shelley's work, highlighting the play of light and shadow in the winter landscape, is a little-seen world for most visitors. Her work invites visitors to ponder the marked contrast between winter scenes and the searing lava flows of summer experienced by the majority of visitors.  
The public is invited to see a display of both of these artist's works in the visitor center theater this spring. Monument staff hope to host a new artist annually so that each may share through their work an aspect of the landscape's intriguing allure with others.