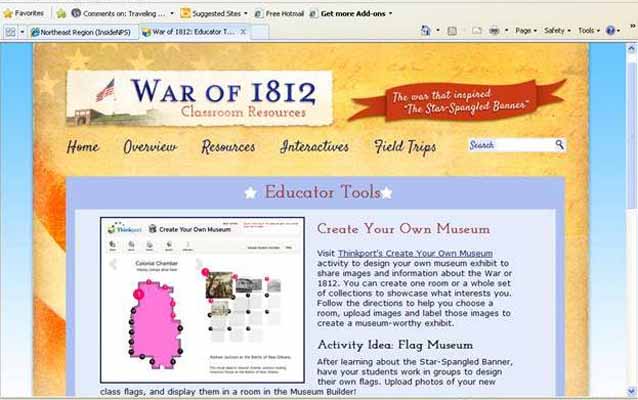 NPS
Quick Facts
GETTING READY FOR 2016:

Action Item:

Go Digital

Also Promotes:

Live and Learn

Year Accomplished:

2012
Just in time for the War of 1812 bicentennial period, NPS partners Maryland Public Television, Friends of Fort McHenry, and the Maryland Heritage Areas Authority have launched a resource center of materials for teachers.
The virtual library is hosted by Maryland Public Television's Thinkport website. Educators will find curricula that meet state standards, interactive games for students, fieldtrip ideas and information, and primary and secondary source material.
Primary source materials include documents, letters, and journals. The searchable resource database allows teachers to search materials according to grade level, type, or keywords. Interactive games, such as "Cast Your Vote", developed by NPS, are designed to encourage students to virtually live in the war's time period.  "Create Your Own Museum" and a slideshow of period artwork provide students with exercises in critical thinking and analysis.
War of 1812 classroom resources on the Thinkport website will have a media launch at an elementary school in Baltimore County in early September, 2012.