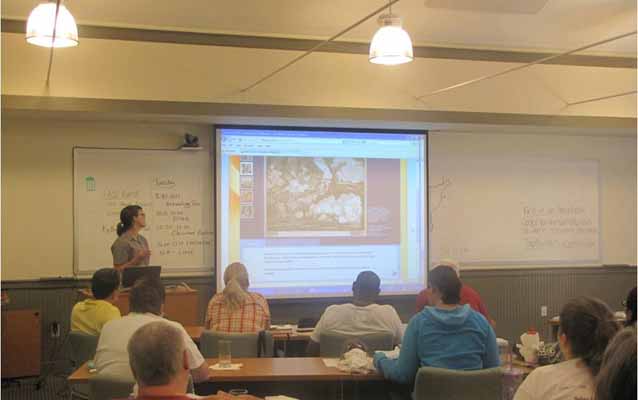 NPS
Quick Facts
GETTING READY FOR 2016:

Action Item:

A Class Act

Also Promotes:

Live and Learn

Year Accomplished:

2012
The Center for the Constitution at James Madison's Montpelier hosted a unique professional development opportunity for Maryland, Virginia, and District of Columbia teachers in July 2012. Thirty teachers spent five days learning about the War of 1812 in the Chesapeake and the educational resources now available for curricula in the classroom.  The National Park Service Chesapeake Bay Office helped fund this residential teaching seminar.
The Fife and Drum Corps from Fort McHenry National Monument and Historic Shrine kicked off the symposium and the teachers participated in an unfurling of the garrison flag. Our own Teacher-Ranger-Teacher, Ruth Goodlaxson, offered a presentation on educational resources, including primary source materials, available now to teachers. She highlighted the trail's website, the Teacher's Resource Guide, and the Virtual Resource Center on Thinkport. 
Prominent War of 1812 historians led sessions during the symposium and also led a field trip to significant war related sites in Washington, D.C.  Bolstered by these experiences, resources, and curricula, teacher participants will lead the charge among their peers to provide every child a star-spangled experience.