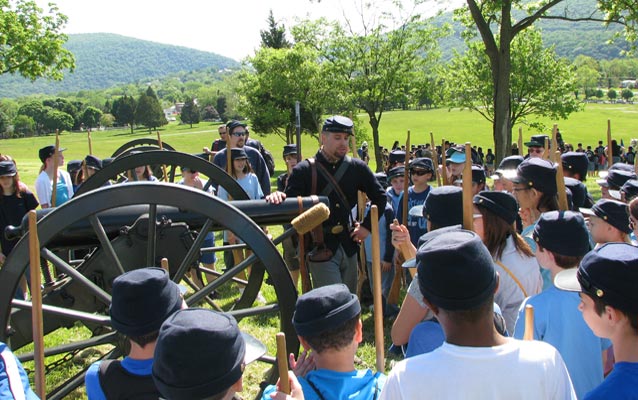 (NPS Photo/Autumn Cook)
Quick Facts
GETTING READY FOR 2016:

Action Item:

Live and Learn

Year Accomplished:

2012
In 1989, area educators and park management at Harpers Ferry National Historical Park launched an education initiative to increase community understanding of a nationally significant Civil War action, the 1862 Battle of Harpers Ferry. The resulting initiative created a county-wide 5th grade field experience that brought students to the battlefield. In 1997, a teacher/ranger cadre produced the School House Ridge Elementary Education Study Guide.  

During this experiential learning opportunity, students are immersed in a significant Civil War story that occurred in their own community - the Battle of Harpers Ferry. Crucial to the 1862 Maryland Campaign, this battle continues to provide compelling lessons on the human experience in war.  

A pre-visit school experience and revised lesson plans for the field day were piloted in 2003 and 2004. The added pre-visit lesson better prepares students for the field day experience. The revised lesson plan gives each student the name of one Union soldier from the 126th New York Regiment who was engaged in action on the battlefield. This role-play exercise encourages students to come to greater insights and understandings of individual soldier experiences through their own personal experience with the program. Living history stations take students through the different sights and sounds of this battle.

Today, in 2012, over 15,000 students, teachers, and chaperones have participated in the School House Ridge Program. Harpers Ferry National Historical Park continues to work with Jefferson County curriculum coordinators and fifth grade teachers to constantly improve this program so that generations of local students can appreciate and engage with their very own Civil War soldier and freedom stories.