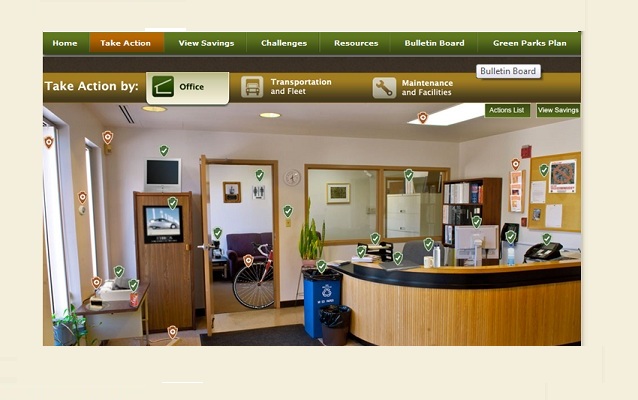 NPS
Quick Facts
GETTING READY FOR 2016:

Action Item:

Go Green

Year Accomplished:

2012
One of the commitments we made in the National Park Service (NPS) "Call to Action," is to "Go Green".  The NPS Green Parks Plan (GPP) needs each of you as a champion to succeed. It outlines how we are going to live up to the "Go Green" commitment by reducing our impact on the environment, mitigating the effects of climate change, and integrating sustainable practices into every aspect of our operations.
In an effort to get every employee involved in this commitment, we have developed a sustainability engagement tool for NPS staff called "My Green Parks." This is an interactive, web-based tool that will help NPS employees understand the actions they can take during the course of their workday to conserve energy, reduce waste, and decrease their carbon emissions. The tool will then calculate the environmental and cost savings for all of the selected actions. 
We need everyone to go to https://mygreenparks.nps.gov, starta My Green Parks accountand begin documenting the wide range of actions that will continue to assist your park/ office with reducing energy bills, saving fuel, becoming more sustainable. 
Site features include:
Take Action:  Choose from several sustainability and carbon-reduction focused actions within three work locations (maintenance, office, fleet/transportation).
View Savings: Keep track of your selected actions as well as associated environmental and financial benefits.  View your savings with several categories via this tab!
Challenge:  Join the challenge!  This site provides opportunity for friendly competition & prizes.
Resources:  A multitude of useful websites, pamphlets and brochures are available for your use via this tab.  Explore, utilize and share some of these great resources with your colleagues.
Bulletin Board: Check out NPS Best Practices, Publications, Sustainability 101 and more.  This tab provides a plethora of opportunity to watch videos, read about Servicewide accomplishments, ask questions or nominate a 'green' leader!
Green Parks Plan:  This website supports many of the goals outlined in the recently released Green Parks Plan.  If you have not had a chance to see the Plan, visit the website or contact us for more information.
We hope this tool will encourage and empower NPS staff to reduce your carbon footprints and become climate sustainability stewards!