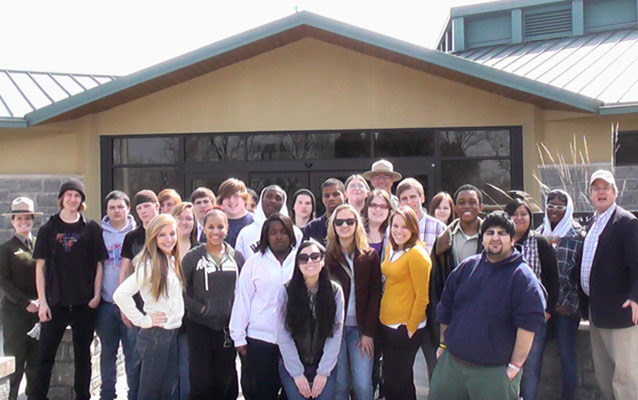 National Park Service
Quick Facts
GETTING READY FOR 2016:

Action Item:

A Class Act

Year Accomplished:

2012
At Stones River National Battlefield, we have developed a formal partnership with McGavock High School, CMT Academy of Digital Design and Communication, in Nashville, Tennessee. We are adopting their class of 2016 for the centennial of the National Park Service.
Metropolitan Nashville Public Schools adopted the academy system in many schools in an attempt to improve student achievement, retention, and graduation rates. McGavock High School created four academies in different career fields and sought partners to represent those fields. The learning communities are smaller in these interdisciplinary groups, and the students can see the practical application of what they are learning.
In June 2012, we were awarded a Ticket to Ride grant from the National Park Foundation to bring the 9th graders from McGavock to the battlefield this fall. We will work with this class for the next four years to involve them with the programs of the National Park Service. Through partnership with the school the last two years we have brought students to the park to produce videos, for job shadowing, internships, and just to visit a national park site. We have visited the school to work with students, the academy board of directors, and to showcase the academy at an open house for incoming students and parents. The students have produced short videos and posted them on YouTube in 2011 and 2012. We have added links on the park website to these videos so that anyone who visits the site may also see the students' interpretation of the park stories. We look forward to a productive relationship with the school for many years. The students and parents are excited about working with the park and we see great possibilities for all of us.
The superintendent of schools and the school board recognized the student winners of the 2011 film contest along with us and the other partners at a school board meeting in December 2011. We and the partners, principals, the academy, and teachers were nominated for Academy Teacher of the Year, Academy Partnership of the Year in the Arts, Media, and Communications Partnership Council, Academy Coach of the Year, Externship Project of the Year, Executive Principal of the Year, and Academy of the Year. The park was awarded the Academy Partnership of the Year and Externship of the Year awards.
Our partnership with McGavock High School can well serve as a model for other parks. With an increasing number of schools using digital media in their classrooms, students are engaging with the world in new ways. At Stones River and other parks, we have the opportunity to display student-produced interpretation that speaks to many groups of people, including teenagers, a group we have difficulty reaching. We have made a lasting connection with a large, urban school with a diverse population. We are excited about the new world of interpretation with these students and Stones River National Battlefield.