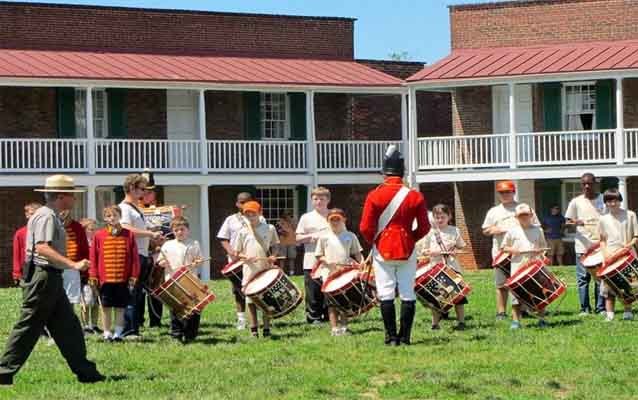 National Park Service
Quick Facts
GETTING READY FOR 2016:

Action Item:

Next Generation Stewards

Also Promotes:

Live and Learn

Year Accomplished:

2013
For eight days in June, sixteen inner-city youth (ranging in ages from 11-14 years old) participated in a unique and first-ever Fife and Drum Camp at Fort McHenry NMHS. Students from Baltimore City and county applied to participate in this special FREE day camp program. 
Under the guidance of Music Coordinator and Park Ranger, Tim Ertel, the Fife and Drum Corps functioned like a real military garrison. Seasonal Park Rangers, Seamus Ertel and Tyler Mink drilled the students and even had them doing push ups - youth mentoring youth!

Most of these students had never played an instrument before attending the Fife and Drum Camp but with hard work and commitment they learned to not only play music from the 1812 era but also march together while playing their instruments. Students gained a sense of history and an affinity to the resource. As a highlight of their camp experience, on Saturday June 29th, they performed Yankee Doodle in the historic Star Fort for the general public and their friends and families.

This camp experience was made possible with support from The Friends of Fort McHenry, the Baltimore National Heritage Area and Eskay, Inc.