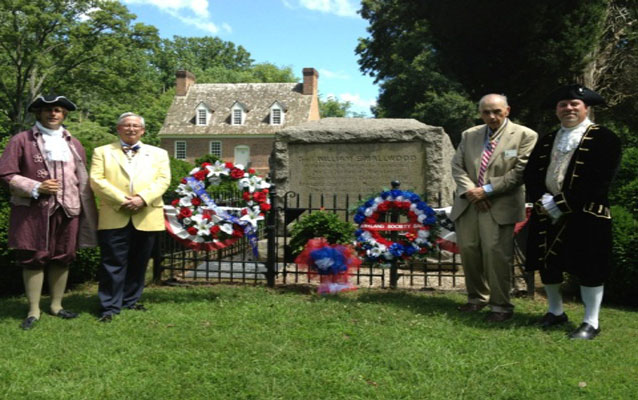 Mike Callahan of the MD Depar. of Natural Resources
Quick Facts
GETTING READY FOR 2016:

Action Item:

History Lesson

Also Promotes:

In My Back Yard

Year Accomplished:

2013
The National Park Service and the Maryland Department of Natural Resources co-hosted a series of events to celebrate the 237th birthday of the United States of America at both Thomas Stone National Historic Site in Port Tobacco, Maryland and at Smallwood State Park in Indian Head, Maryland. The event, entitled "American Independence by Pen and by Sword," brought together staff from both parks to pull off the events.
In the morning, the traditional dedication at the Stone family cemetery was held as members of local chapters of the Sons of the American Revolution, Daughters of the American Revolution, and even a representative from the Children of the American Revolution placed wreaths by the gravesite of Thomas Stone before a live fire demonstration was held by the color guard of the Sons of the American Revolution. The rest of the day was filled with colonial toys demonstrations and horse and carriage rides between the house and visitor center. Park Naturalist Mike Callahan from Smallwood State Park was on hand to assist the Thomas Stone staff in the morning session.
In the afternoon, the focus shifted to Smallwood State Park. After hearing some period music from costumed musicians, tours were given inside the house as well as the kitchen and herb garden. Volunteers and paid staff prepared an elaborate meal including baked chicken, salmagundi, and baked goods using traditional cooking items. Later, Park Ranger Scott Hill of Thomas Stone NHS gave a program on the links between the Stone family and General Smallwood. The day's events ended the way it had begun; with a wreath laying at the gravesite of General Smallwood on the 115th anniversary of the placing of the monument to the general.
The day long series of events were a great success at both sites and discussions are already being held for future collaborative events.