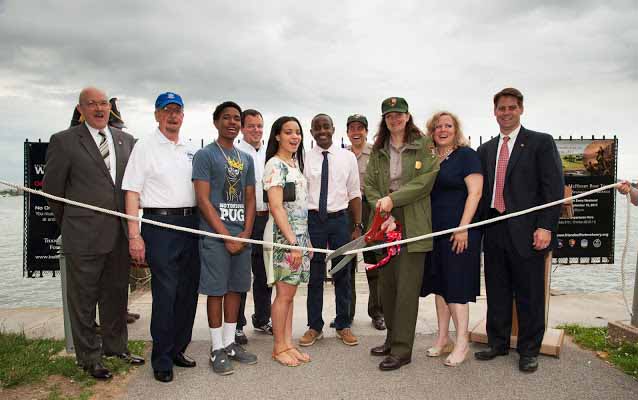 National Park Service
Quick Facts
GETTING READY FOR 2016:

Action Item:

Arts Afire

Also Promotes:

Focus the Fund

Year Accomplished:

2013
As the summer tourist season gets underway, Fort McHenry NM&HS added another attraction! For the first time, visitors to the park will get the same view of the Star Fort —from the water — the view that inspired Francis Scott Key to write the National Anthem during the War of 1812's Battle of Baltimore.
The Friends of Fort McHenry, a nonprofit friends' group, works with the National Park Service staff to provide educational programs and living history activities at the site. They partnered with Living Classrooms Foundation and Baltimore Water Taxi to create the tour, which is expected to be an annual summertime offering.
A $33,000 grant from the state's Maryland War of 1812 Commission funded the effort. Students from the Baltimore School for the Arts narrated the tour while El-J Productions produced the script and sound effects. The Baltimore Water Taxi is providing the 49-passenger boats under a charter arrangement with The Friends of Fort McHenry.
It going to be a spectacular "star-spangled" summer for visitors to Baltimore!