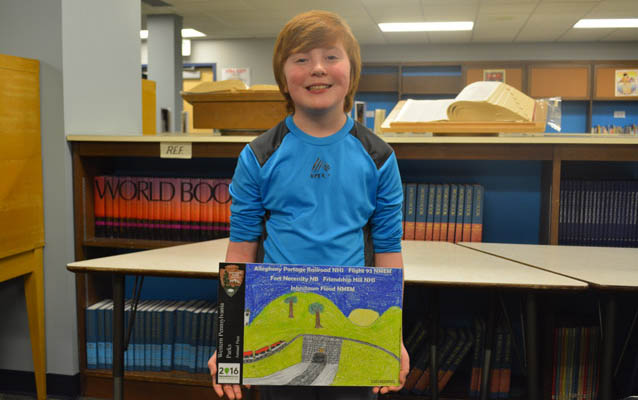 NPS/Wilson
Quick Facts
GETTING READY FOR 2016:

Action Item:

Arts Afire

Also Promotes:

A Class Act

Year Accomplished:

2015
The five National Parks in Western Pennsylvania (Allegheny Portage Railroad NHS, Flight 93 NMEM, Fort Necessity NB, Friendship Hill NHS, and Johnstown Flood NMEM) held an art contest to celebrate the Centennial of the National Park Service and to encourage students to Find Their Park. The parks' invited fourth graders from the counties in which the parks are located to participate. These counties are Blair, Cambria, Fayette, and Somerset. The choice of fourth graders for the contest also helped to highlight the Every Kid in a Park pass program for fourth grade students. The students were asked to share their experiences in the five National Parks of Western Pennsylvania and to show how they found their park. Entries were as diverse as parks themselves and none of the students found their park in quite the same way, showing how fun it can be to Find Your Park.   
The artwork from the winning entry will be featured on the WEPA annual pass for 2016. The winner, Portage Elementary student Elliot Nagy, also received a Find Your Park pin, a large mockup of the pass design, and a $50 gift certificate to be used in the bookstore of any of the five National Parks of Western Pennsylvania. Portage Elementary can also boast the runner up, Paige Phillips, who received a Find Your Park pin and a Centennial mug. In addition, there were 13 Honorable Mentions who received Find Your Park pins.
While included in the contest, there is no entrance fee for Flight 93 NMEM or Friendship Hill NHS.