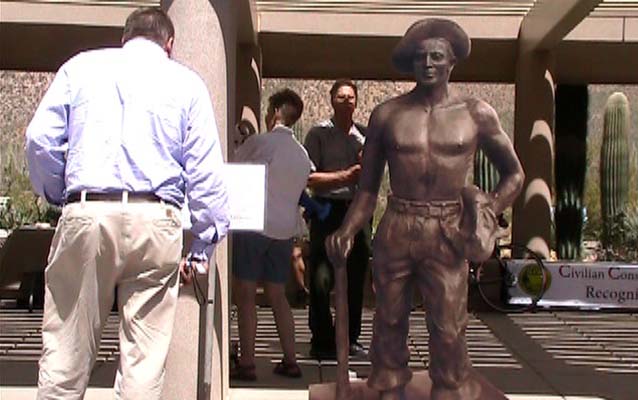 NPS photo
Quick Facts
GETTING READY FOR 2016:

Action Item:

History Lesson

State:

Arizona

Year Accomplished:

2012
The Civilian Conservation Corps (CCC) Recognition Day celebrates the accomplishments of 3.4 million young men who were given the opportunity by their country to perform useful conservation work, earn money for their families, and develop skills and confidence that would stay with them for their entire lives. This program, which ran from 1933 to 1942, rejuvenated the natural resources of the country in National Parks, National Forests, State Parks, and other public lands. 3 billion trees, fire lookout towers, buildings, roads, trails, picnic areas, bridges and rockwork are among the infrastructure they created, much of which is still in use today.
Saguaro National Park's Tucson Mountain District is a beneficiary of this program. The District's picnic areas, hiking trails, wildlife water stations, and roads were built during this important period in our history. The CCC Recognition Day event brings together authors and historians, CCC alumni, lecturers and the general public to inform and remind people of the contributions made by that generation. Among the program offerings are:
·

       
Guided tours of the site of Camp SP-6-A, located on Park property
·

       
PowerPoint presentations on various aspects of CCC history
·

       
Book signings and presentations by authors of CCC histories
·

       
Displays of photographs, artifacts and information about local CCC sites
·

       
The opportunity to interact with people who had actually participated in the program
More than 800 people attended the event in 2012, and as many or more are anticipated for 2013. The program is enhanced by the participation of several local organizations, including: The CCC Legacy; Colossal Cave Mountain Park; The Southwest Conservation Corps; San Pedro Valley Arts and Historical Society; Wordhunting, LLC; and several other units of the National Park Service.