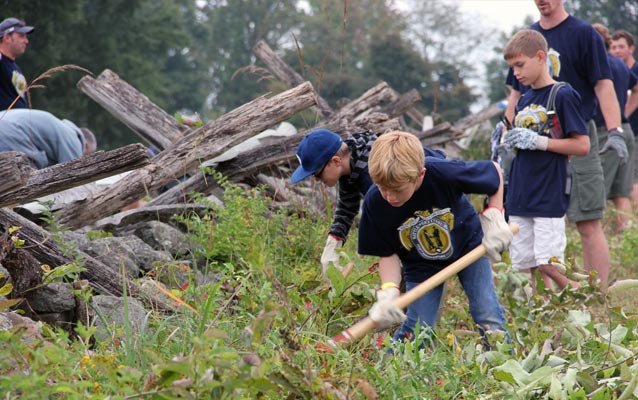 NPS/GETT
Quick Facts
GETTING READY FOR 2016:

Action Item:

History Lesson

Also Promotes:

Step by Step

Year Accomplished:

2013
Battles aren't just video games.  Real people died.  These are messages that Ron Gardner hopes 3,000 Boy Scouts take away from their special weekend of camping, learning and service at Gettysburg National Military Park (NMP), September 27-29.  The New Birth of Freedom Council of the Boy Scouts of America partnered with Gettysburg NMP and the Gettysburg Foundation to create the once-in-a-lifetime opportunity for central Pennsylvania scouts.  The event commemorated the 150th anniversary of the battle of Gettysburg and sold out in less than 30 minutes when it was announced earlier this year.
The two-night encampment was on the Gettysburg Foundation's George Spangler Farm, an 80 acre Civil War farm that served as a field hospital to more than 1800 wounded Union and Confederate troops during and after the Battle of Gettysburg.  
There was same hard work too.  Under the supervision of Gettysburg NMP staff, 700 of the scouts cut and removed brush growing along historic fence lines on Cemetery Ridge where major fighting occurred during the battle.  Throughout the weekend park and foundation staff provided interpretive programs to help the scouts to learn about and reflect on the importance of Gettysburg, including programs about the life of the Civil War Soldier, Pickett's Charge and the outcome of the battle, and the Soldiers' National Cemetery.  Scouts interacted with Civil War reenactors at the Pennsylvania Memorial.  On Saturday evening, they listened to a program about the history of Spangler Farm, and "Voices of the Battle," a dramatic reading of eye witness accounts of the battle and its aftermath.  
"Our scouts appreciate this opportunity to participate in the 150th anniversary of the Battle of Gettysburg and to learn about how the country was changed forever as a result of the conflict," said Ron Gardner, Scout Executive and CEO of the New Birth of Freedom Council.  "We want them to understand the sacrifice.  Battles aren't just video games.  Real people died."
The programs coincided with National Public Lands Day and helped promote NPS Call to Action initiatives #2 Step by Step, #3 History Lesson, and #16 Live & Learn.