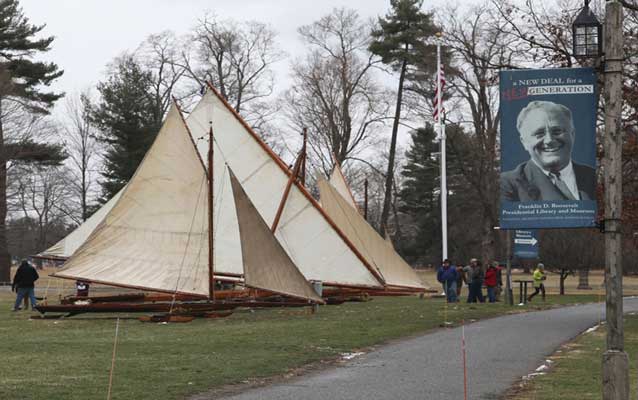 Bill Urbin NPS
Quick Facts
GETTING READY FOR 2016:

Action Item:

History Lesson

Also Promotes:

Out With the Old

State:

New York

Year Accomplished:

2015
In a rare treat, Franklin D. Roosevelt's ice yacht HAWK helped welcome the winter season during the holidays. Hundreds of park visitors of all ages were drawn to the indoor and outdoor display that included ice yachts of all sizes, along with videos, photos and one-on-one discussions with members of the Hudson River Ice Yacht Club (HRIYC). The Club was co-founded by FDR's uncle in 1885, and FDR himself briefly served as Vice-Commodore before going on to more distinguished administrative positions later in his career.
Displayed for only the second time In 20 years, the 28-foot HAWK provides an insight into a part of FDR's life that few may know of: as a sportsman with a passion for sailing faster than the wind, on ice.
Ice yachting – the sport of sailing on ice instead of liquid water – was refined as both an art and science in the Hudson River Valley during the mid - and late 1800s. Until the invention of the internal combustion engine and the automobile, these wooden ice yachts were the fastest vehicles on Earth, easily outrunning the trains that ran along the banks of the Hudson.
FDR's uncle, John A. Roosevelt, owned a fleet of ice yachts and was an avid racer, a four-time winner of the Ice Yacht Challenge Pennant of America. Young FDR grew up sailing ice yachts with his uncle and friends from many other well-off Hudson Valley families, and the HAWK was a Christmas gift from his mother in 1901. HRIYC today is one of very few clubs that continues to preserve and sail these magnificent wooden sailing craft in their original condition.
Volunteers from HRIYC helped NPS transport HAWK from the NPS curatorial facility and assemble it for the temporary display, and then serve as monitors and docents each day. In addition to helping the park understand and interpret the HAWK, HRIYC members are also helping NPS curatorial staff to accurately document it, as well as develop plans for reproducing its missing parts, so that one day it can be displayed and interpreted in an even more meaningful form.
While a winter sport such as this may face new challenges from climate change, there is no question that this long-time Hudson River tradition has won a host of new fans and admirers. And the idea of a cold, hard winter has new appeal.
The Ice Yacht Expo was co-sponsored by the Home of Franklin D. Roosevelt Home NHS, the FDR Presidential Library and Museum, the Hudson River Ice Yacht Club, and the NPS Rivers, Trails & Conservation Assistance Program.
Hudson River Ice Yacht Club: http://www.hriyc.org
White Wings and Black Ice:http://hudsonrivericeyachting.blogspot.com
Home of Franklin D. Roosevelt NHS:www.nps.gov/hofr