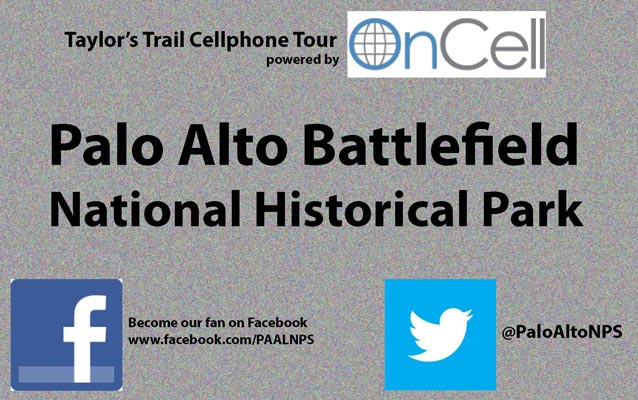 NPS
Quick Facts
GETTING READY FOR 2016:

Action Item:

Go Digital

Year Accomplished:

2013
In 1846, the U.S. Army made a difficult march from Corpus Christi to the Rio Grande and eventually engaged Mexican troops in a series of hard fought battles that started the U.S. - Mexican War. Today, Palo Alto is giving people a chance to travel back in time and learn about the conflict-all from the convenience of a cellphone.
With the help of OnCell, Palo Alto recently launched an expanded cellphone tour of the park and other Mexican War related sites. The cellphone tour allows listeners to retrace the path of these troops and learn details about their movements and deeds. By dialing a phone number and entering different tour stop numbers, listeners are able to enjoy a condensed Ranger talk about a specific site.
The tour allows listeners to give feedback as well as rate the various tour stops. The program initially only offered tours stops at Palo Alto but through the hard work of park staff and volunteers, expanded into a tour covering 10 sites with multiple stops each.
Since its inception, listeners have logged thousands listening minutes on the tour. The park is already working on expanding the tour and enriching the content that is already available.