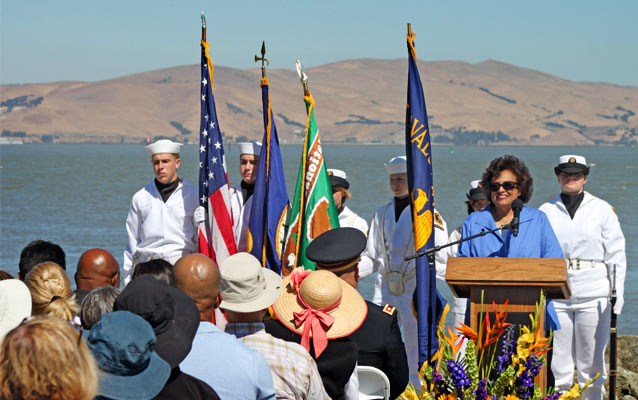 NPS Photo: Luther Bailey
Quick Facts
GETTING READY FOR 2016:

Action Item:

History Lesson

Year Accomplished:

2012
On July 21, 2012, the National Park Service, the Friends of Port Chicago National Memorial, the U.S. Army 834th Transportation Battalion at Military Ocean Terminal Concord and 250 attendees from local communities gathered to honor those military and civilians killed in the largest homeland disaster during World War II.  The memorial ceremony commemorating the 68th anniversary of the disaster included comments by military officials, local politicians, the friends groups and survivors.   Superintendent Tom Leatherman emceed the event, and the U.S. Naval Sea Cadet Corps-Arkansas Division provided color guard and "Taps." 
During the ceremony, Morgan Smith, Chief of Interpretation, told the story of the disaster and the subsequent events of civil disobedience using quotes from the Port Chicago Oral History Project.  The oral history project is a partnership between the University of California, Berkeley and the National Park Service.   Throughout the day, Interpreters also offered tours of the memorial site and ammunition bunker.
After the formal service ended, attendees had the opportunity to view the premier of a Port Chicago film: Into Forgetfulness.   The film will be available to community and educational groups providing another way for people to learn about this important event in American History that was largely forgotten.