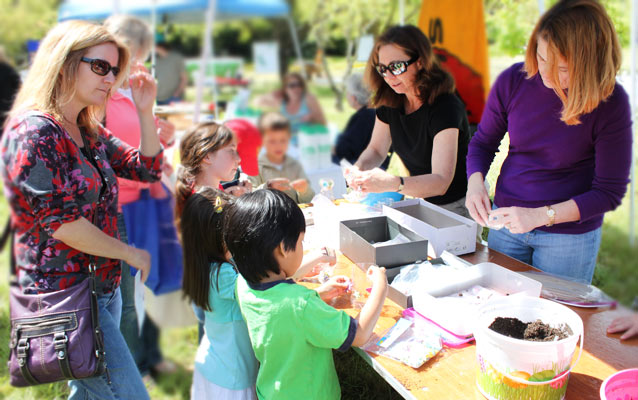 NPS Photo
Quick Facts
GETTING READY FOR 2016:

Action Item:

History Lesson

Year Accomplished:

2012
The National Park Service and the John Muir Association celebrated John Muir's 174th birthday on April 21st with the Earth Day/Birthday Festival at the John Muir National Historic Site in Martinez, CA.  This popular annual event has something for everyone, and serves to connect visitors to the life and legacy of John Muir.
Park staff worked across divisions and with partners to host this history discovery event that supported the Call to Action Number 3: History Lesson.  Cultural Resources engaged young audiences to discover the secrets of history through a scavenger hunt for objects in Muir's historic home.  Interpretive rangers helped new Junior Rangers understand the food chain and recycling through fun projects they could take home. A local re-enactor portrayed John Muir, speaking in Scottish brogue with Muir's actual words to convey Muir's passion for adventure and the beauty of nature.  A nearby independent environmental high school, New Leaf, collected oral history interviews from some of the 2,500 visitors that day.  They were exploring visitor's interpretations of how to carry on Muir's legacy into the 21st century.
Vendors and representatives from more than 50 environmentally-focused organizations, including local community groups, 6 national parks, as well as park Inventory & Monitoring and Fire Education staff, helped bring Muir's message to life by making contemporary connections and elevating public awareness of all the National Park Service has to offer.
The overwhelming consensus of the day was that park visitors really do care about the future of this big blue marble we call home, and that John Muir's writings are not just historical references to all things wild, but serve as a guide to those people who love nature and who seek to understand its mysteries.
October 2012: Tad Shay