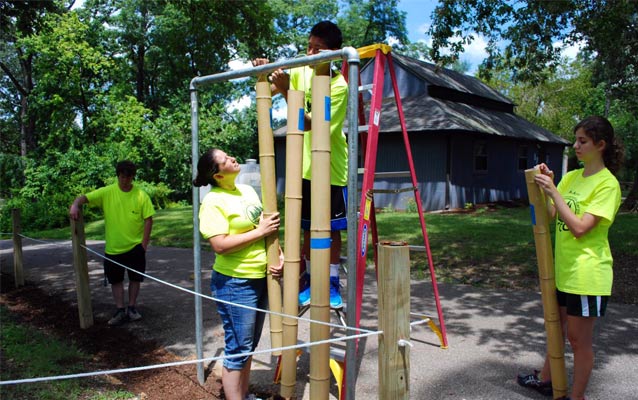 Anne Arundel, County Recreation and Parks
Quick Facts
GETTING READY FOR 2016:

Action Item:

Step by Step

Year Accomplished:

2013
Over 3 weeks in summer, 2013, Chesapeake Youth Corps partners at the Anne Arundel County (MD) Recreation and Parks Department designed and constructed an all-sensory trail with the help of youth corps participants.
The All Sensory Trail encourages people of all abilities to stimulate their senses as they walk along the 3/10 mile paved trail. A guide rope directs sight-impaired participants around the trail and gives them an opportunity to interact with nature using multiple senses. Interpretive signs in English and Braille help those who are visually impaired as well as sighted participants. An olfactory and tactile garden offers wonderful scents from a variety of flowers, herbs and textured plants. A signature feature of the trail is the six-foot tall bamboo wind chime, stimulating hearing and touch.
Eleven middle school and high school-aged participants in the Youth Conservation Corps program contributed all of the physical work needed on the trail construction. The students dug post holes, planted and watered plants, cleared brush, and mulched the trail.
Youth corps participant Claire, 14 years old, had this to say about her experience: "Helping with the trail was such a rewarding two weeks for me. I had something to look forward to each morning when I was there. I made some friends and we all had the same goals. Having fun, working hard and making one of our favorite parks a nicer looking place for visitors." 
Initially, the idea of the all-sensory trail was created through collaboration between the National Park Service Chesapeake Bay office and the Anne Arundel County public outreach coordinator. NPS was happy to assist with funding of materials to implement the trail and broaden the experience of its Chesapeake Youth Corps program. 
A video of the Ordakowski family exploring the trail can be seen on YouTube at https://www.youtube.com/watch?v=da_RbOYHgPc