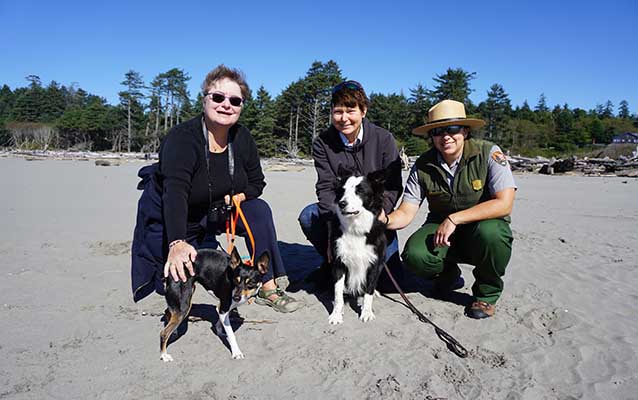 NPS Photo/D. Archuleta
Quick Facts
GETTING READY FOR 2016:

Action Item:

Take a Hike, Call Me in the Morning

Also Promotes:

Destination Innovation

Year Accomplished:

2016
With over 95% of Olympic NP designated as wilderness, there are few areas where visitors can hike with their dogs. Imagined by two of Olympic's stellar seasonal park rangers, the Bark Ranger program is intended to be a community outreach strategy and method for positive enforcement of pet policy in the park.
To earn a Bark Ranger badge, pets and their human companions must participate in a Bark Ranger program, learn how to hike safely with their pet in the park, and promise to follow the rules of B.A.R.K. - ag your poop, Always wear a leash, Respect wildlife, and Know where you can go.
The Bark Ranger program was piloted in the fall of 2015 at the park's first Healthy Parks, Healthy Communities event. Participants were invited to attend one of the scheduled Bark Ranger programs held around the park throughout the day. The program was well received by the public and was officially launched throughout the park in summer 2016.
Olympic is also promoting and supporting the development of similar programs in other parks throughout the system.
ss>\���