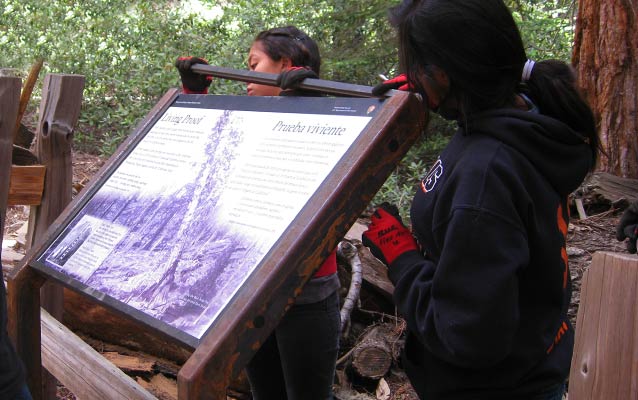 NPS/Marcy Frazier
Quick Facts
GETTING READY FOR 2016:

Action Item:

Step by Step

Year Accomplished:

2012
More than 200 young people from 16 organizations camped, worked on service projects, and participated in park activities this summer, thanks to the efforts of two seasonal youth-leadership liaisons for the Volunteer-in-Parks program.
The liaisons focused on engaging under-served youth in volunteer projects that included opportunities for learning and focused on developing values, conservation awareness, and citizen stewardship. They installed exhibits, removed invasive weeds, propagated native plants, removed litter and graffiti, and helped with ecological-restoration projects. These groups took the lead in affixing bear information to food-storage bear-boxes, thereby contributing to visitor awareness and helping to conserve one of the parks' iconic species.
Through these experiences, youth from backgrounds that are historically under-represented in the parks began to make connections here. They gained an understanding of natural-resource protection and acquired a sense of ownership of THEIR National Parks. There was more than a little talk of returning to the parks with their families. Working alongside park staff, many young people began to imagine future possibilities in a career with NPS or other public-lands agencies.
All the organizations involved, most of which had no prior park involvement, serve low-income youth from diverse ethnic backgrounds. They include the Woodlake Fire and Police Explorers, the Visalia Police Explorers, the Wittmann Community Center of Visalia (serving the children of migrant farm workers), Courage-to-Change of Exeter (serving former youth gang members), Nature Corps, and the Boys and Girls clubs of Visalia and Fresno. Visit our Park Video page to watch a slide show on the efforts of the Woodlake Explorers, just one of these great groups (put together by one of our outstanding interns)!