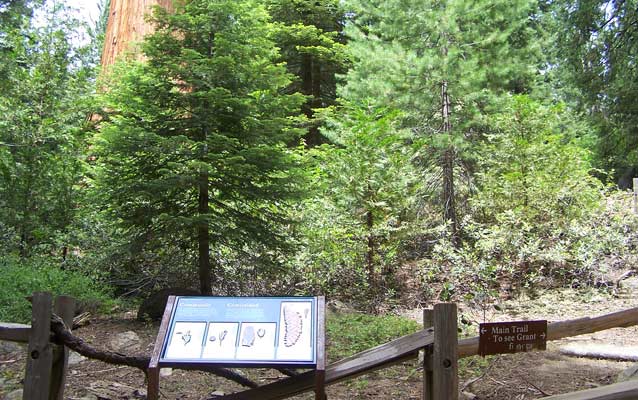 NPS/Marcy Frazier
Quick Facts
GETTING READY FOR 2016:

Action Item:

Invest Wisely

Also Promotes:

Live and Learn

Year Accomplished:

2012
Two projects moved these parks ahead in the accessibility arena this summer: A new type of tactile exhibit was installed along a popular trail among giant sequoias, and audio-visual programs offer options that increase their availability to all. 
Working to control costs while providing a tactile experience, park staff designed panels that offer some relief but can be created and replaced at less cost than original sculpture. We cooperated with a designer to produce routed metal panels that are coated with color and text, then powder-coated for durability. The five resulting panels along the Grant Tree Trail bring the size and shape of our huge trees to life under one's hands. These, plus five traditional panels, replace outdated, damaged, and non-thematic exhibits along this much-loved trail. They also offer their stories in English and Spanish.

Every visitor center and amphitheater with audio-visual equipment received upgrades. In three visitor centers and five amphitheaters, new equipment improved accessibility via:

Captioned films, which help not only those with reduced hearing but also reinforce understanding for those whose English is limited.
Assistive-listening systems that make it easier for visitors with hearing aids to enjoy the audio. 
Audio-description, which adds depth to the program for those who can't see the scene on the screen.
As a result of these investments, park messages and the park experience have become more accessible than ever!