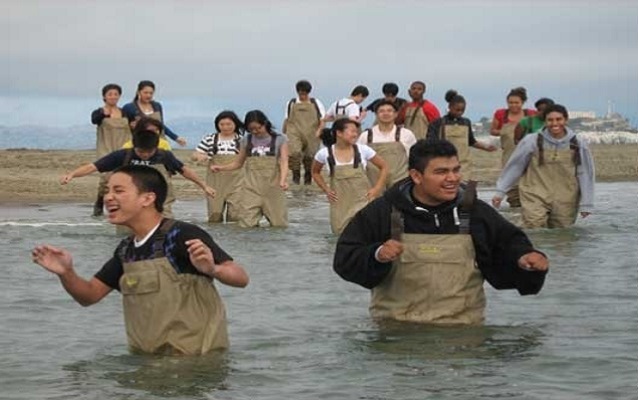 NPS
Quick Facts
GETTING READY FOR 2016:

Action Item:

Live and Learn

Year Accomplished:

2013
The Crissy Field Center (a collaboration between the Golden Gate National Recreation Area and the Golden Gate National Parks Conservancy) has partnered with Galileo Academy of Science and Technology to create a unique environmental science course.  Watersheds Inspired Students Education (WISE) is an AP Environmental Science course that provides students with the opportunity to use their local national park unit as a living laboratory. Once a week, the Presidio Trust shuttle transports 33 high school students to and from Crissy Field. Currently, two full classes participate and there is discussion about doubling the size of the program.
For half of these Galileo seniors, this is the first AP course they have taken. One of the program's primary goals is to pique the curiosity of students typically disinterested in environmental science and to provide a fun learning environment that not only brings students into their national parks, but motivates them to enroll in additional AP courses.   WISE provides a non-traditional and interactive way to learn AP class content (through games, team building exercises, and time spent conducting experiments in a beautiful park) and encourages students to step outside their comfort zones and challenge themselves academically.
In addition to carrying out weekly lab assignments and conducting tests on site, the students create a large final project in small groups.   Over the span of seven weeks, the students design, implement, and analyze an environmental science experiment of their choice. For example, examining the impact of watersheds on water quality through a comparison of local sites Crissy Field Marsh and Aquatic Park.  Once students choose a topic, they develop a full-fledged scientific experiment and ultimately present their findings at an annual environmental science symposium held in San Francisco.