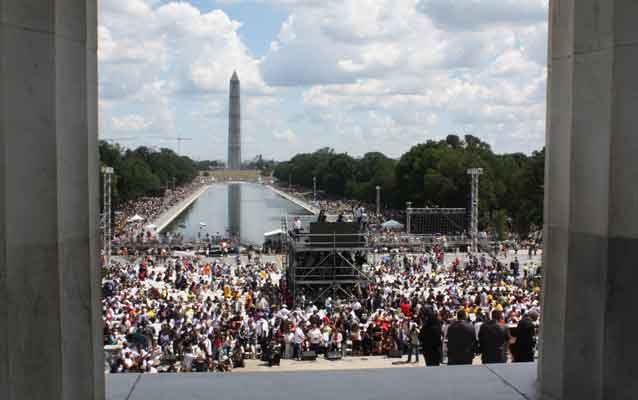 NPSPhoto
Quick Facts
GETTING READY FOR 2016:

Action Item:

Keep the Dream Alive

Year Accomplished:

2014
 On Saturday, August 24th, 2013, National Mall and Memorial Parks coordinated with the National Action Network and a number of other non-profit organizations to support the 50th anniversary of the March on Washington: Realize the Dream March and Rally.
The Rally began around 8am and ran until 1pm with a number of speakers from a broad range of organizations.  The speakers ranged in ages from grade school students to those who were leaders or participants in the march in 1963, including Georgia Congressman John Lewis and Reverend Al Sharpton.  
The event was attended by tens of thousands of people from around the country who wanted to be a part of this historic occasion.  An events of this magnitude brought out over 70 park staff form every division and support from other national parks including, Martin Luther King Jr Historic Site in Atlanta, GA, National Capital Parks East, Rock Creek Park, Wolf Trap National Park for the Performing Arts, Everglades National Park, Manassas National Battlefield Park and the National Capital Region. Over 100 park volunteers supported the event.
"The National Park Service and our partners have been working for some time to ensure that our visitors have the opportunities to commemorate this important historical event," said Robert Vogel, superintendent of the National Mall and Memorial Parks.
Over 600 buses brought people to the event and Washington Metro carried 178,000 riders. Crowds lined each side of the Lincoln Memorial reflecting pool. In spite of the large crowds there were no serious incidents and those in attendance expressed appreciation and inspiration at being part of this historic event.