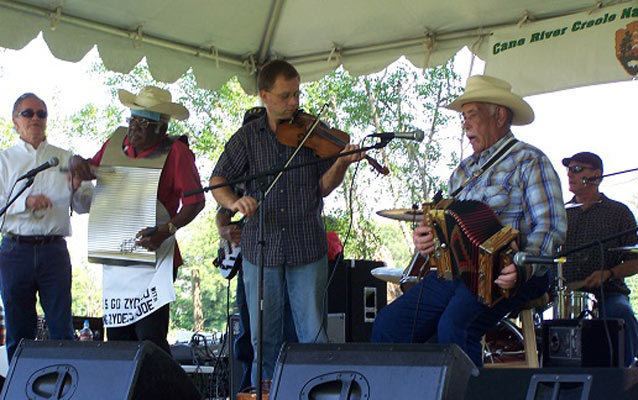 Nathan Hatfield
Quick Facts
GETTING READY FOR 2016:

Action Item:

Arts Afire

Also Promotes:

History Lesson

State:

Louisiana

Year Accomplished:

2012
On May 19 Cane River Creole National Historical Park hosted the 3rd Annual Cane River Music Festival at Oakland Plantation. This year's festival featured performances by Grammy nominated guitarist Buddy Flett, stars of the documentary "We Juke Up In Here" Hezekiah Early & Lil Poochie, Creole Heritage Award Winner Goldman Thibodeaux, and local favorites Doc Couty & the Natchitoches All Stars.
The Cane River Region has a rich musical legacy. The area was once home to several Night Clubs, Dance Halls, and Juke Joints which were popular night spots for the area's Creole and African American farm workers. After World War II with the emergence of farm mechanization these establishments slowly died out as the population dwindled.
The festival has helped restore Cane River's tradition of live music. This year's festival goers were treated to a variety of performers highlighting Louisiana's diverse musical genres. Visitors of all ages danced and enjoyed picnic lunches underneath the park's majestic pecan trees.
Each year the festival has been made possible by assistance from Cane River National Heritage Area with past performances from Blues Hall of Famer Bobby Rush, and Louisiana Master Folk Artist Hardrick Rivers.