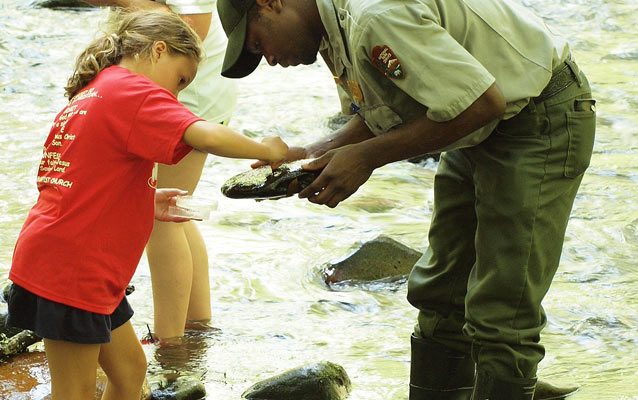 NPS Photo-Elizabeth Dupree
Quick Facts
GETTING READY FOR 2016:

Action Item:

Step by Step

States:

North Carolina, Tennessee

Year Accomplished:

2012
Great Smoky Mountains National Park, with funding assistance from the Youth Partnership Program, hired eighteen high school students from its eight surrounding counties to participate in a summer intern program. The program allowed participants to learn a great deal about the park through on-site training exercises which enabled them to perform ranger duties. The interns assisted scientists and staff with field research and education programs while exploring possible career opportunities in the park. They were exposed to and gained knowledge of a variety of areas: wildlife biology, fisheries science, botany, forest and stream ecology, geology, Cherokee history and culture, and Appalachian history. They also gained an understanding of how the park is managed and what an important role it plays in the protection of this biologically diverse area.
"These programs are mutually beneficial," said the Park's Education Specialist Karen Ballentine. "The students got an in-depth study of resource education techniques, scientific methods, and field research to enhance their skills and talents, and, in turn, the park created advocates through better understanding of and appreciation for the Smokies. The interns also shared their education and experience with family and friends."
Park staff worked with local teachers and principals to recruit diverse students to apply for this 6-week paid summer internship.