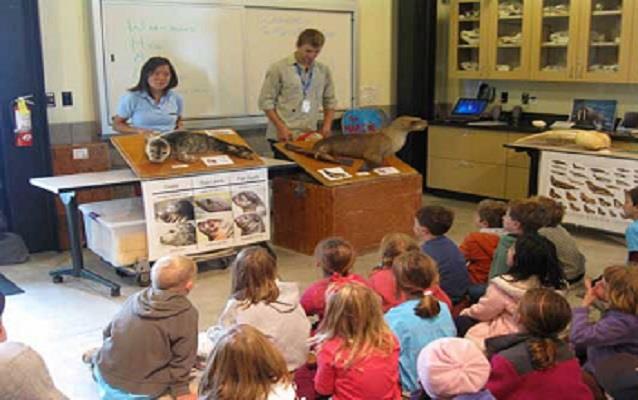 NatureBridge
Quick Facts
GETTING READY FOR 2016:

Action Item:

Live and Learn

Year Accomplished:

2013
Two park partner organizations in the Marin Headlands share more than just the nearby shoreline. The Marine Mammal Center (TMMC) is a non-profit hospital providing marine mammal rescue, rehabilitation, and release along 600 miles of California coast. Next door neighbor NatureBridge is a residential environmental education organization that provides academically challenging, hands-on programming to help youth connect to the natural and cultural resources found throughout the Golden Gate National Recreation Area. 
While each partner has a distinct mission, the two share a passion for education and developing environmental stewards.  As a result, the organizations combine forces on a routine basis to extend their educational reach.  Specifically, TMMC staff members have trained NatureBridge educators to conduct lessons on marine mammal and ocean health issues.  Three to five times per week, NatureBridge educators hike students up the hill to TMMC to lead a tour or conduct on-site classroom programming tailored to each group's needs.  Mentor Teacher, Peter Demyanovich, emphasizes that "the collaboration has been a fantastic way for our students to get a connection to the ocean and responsible ways to steward it. So many schools come to our program with a focus on marine ecology, and coming to the TMMC is a really powerful way to show our students how closely connected they are, and how their actions miles and miles away from the ocean have an impact.  The ability to bring them up here and show them patients and caring people who are making an effort out of the goodness of their heart…thousands of volunteers that make this place possible…that really inspires the kids and it's a powerful message for our students that they can make a difference."
Since the inception of the collaboration, NatureBridge has brought 1,683 groups (roughly 28,000 students) to The Marine Mammal Center.  Additional park partners, including the Point Bonita YMCA and A Home Away from Homelessness collaborate with TMMC in similar ways.  TMMC's Executive Director, Jeff Boehm, muses, "when I introduce people to the center… I encourage people to look out at the "neighborhood," and then I start talking about this wonderful array of neighbors that we have in this area and the wonderful synergies in our missions.   There's different core work that we do, but ultimately we knit together nicely…their different approach(es) to education allows us, through them, to reach a greater audience.  Opportunities for a deep dive into a sense of place…that's what the National Park Service is all about.  It's a place for inspiration, emotion, and connection, and we're all mediators."