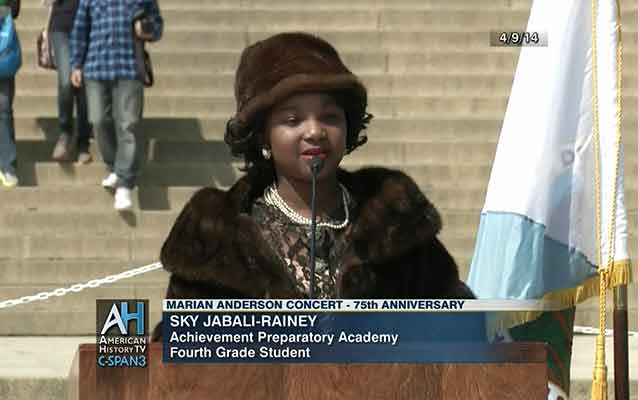 C-Span
Quick Facts
GETTING READY FOR 2016:

Action Item:

Keep the Dream Alive

Also Promotes:

History Lesson

Year Accomplished:

2014
The National Mall and Memorial Parks commemorated the 75th anniversary of Marian Anderson's historic Easter Sunday concert with a ceremony on Wednesday, April 9th of 2014, on the steps of the Lincoln Memorial.  In 1939, then Secretary Harold Ickes and First lady Eleanor Roosevelt welcomed Ms. Anderson to sing on the steps of the Lincoln Memorial after the segregated Daughters of the American Revolution Constitution Hall would not permit her to sing.
In partnership with the Washington Performing Arts Society (WPAS), the program focused on engaging youth with the Marian Anderson's civil rights story and national parks.  Secretary of the Interior Sally Jewell took part in the commemorative event and it was live broadcast on C-SPan.
Superintendent Robert Vogel welcomed the audience after a performance by the Washington Performing Arts Society's Children of the Gospel Choir.  Students from a DC area high school presented a short history of Marian Anderson's concert at the Lincoln Memorial.
The students already had a connection to the National Park Service, as part of the National Park Foundation's Park Stewards program.  Focusing on service learning projects in national parks, they have formed a club called PITCH - Parks are Ideal for Teaching Cool History.
Following an audio clip from former Secretary of the Interior Harold Ickes introducing Marian Anderson and her performance of 'My Country, Tis of Thee' also known as American, the current Secretary spoke about the historic event and about the importance of young people to the future of national parks.

Ranger Monomma Al-Ghuiyy from Presidents Park inspirted the crowd with her story of meeting Marian Anderson and how it affected her life.  Fourth grader Sky Jabali-Rainy impressed the audience with her first person presentation as Marian Anderson. The program concluded with a musical performance and artist from WPAS, a third grade class from a Washington elementary school and the WPAS children of the Gospel Choir.