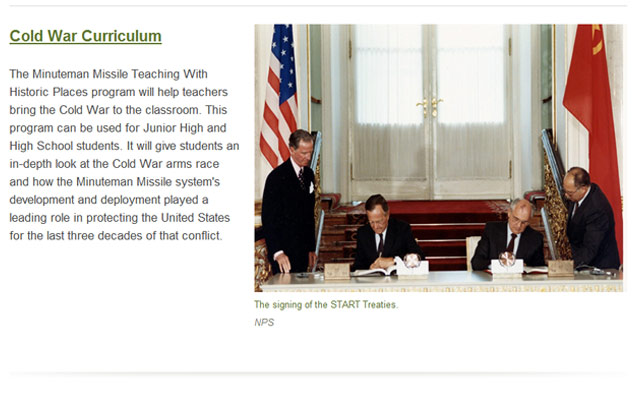 NPS
Quick Facts
GETTING READY FOR 2016:

Action Item:

Go Digital

Also Promotes:

History Lesson

Year Accomplished:

2015
In preparation for upcoming changes to the National Park Service (NPS) website template in advance of the NPS Centennial in 2016, Minuteman Missile National Historic Site undertook a total revamp of the park's website. From November 29, 2014 to January 13, 2015, park staff revised or created and developed 121 different webpages. The most noticeable upgrades occurred in the Plan Your Visit Section. Because of these changes, it is now much easier for website visitors to find the information they need with easier navigation. The park also added numerous pages to the History and Culture section of the website. This has allowed the website to evolve from a tool primarily for trip planning to one also used for research and education.

The Minuteman Missile website is the number one point of contact for visitors. Having stylishly designed, content rich webpages gives prospective visitors the tools they need to have a memorable experience when they arrive at the park. For those who are unable to visit the park in person, they are now able to spend hours learning why Minuteman Missiles were one of the most significant strategic weapons during the Cold War and in American History.

The park has also bolstered its social media presence. Regular posts to Facebook and Twitter provide both information and interpretation about the park. These sites along with a newly created Minuteman Missile YouTube page have become an easy and efficient outlet for people worldwide to be exposed to and participate in the site's rich heritage and history.