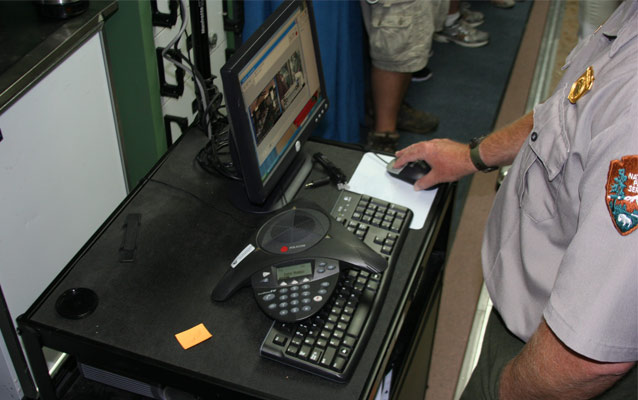 NPS
Quick Facts
GETTING READY FOR 2016:

Action Item:

Go Digital

Also Promotes:

History Lesson

Year Accomplished:

2014
Through the use of an internet connection and long distance learning technology Minuteman Missile is able to provide ranger-led education programs live from the underground Launch Control Center at Delta-01. These programs can be transmitted to any classroom in the United States that has the proper equipment. The grade levels these broadcasts connect with include elementary, middle and secondary school levels. 

Distance Learning is a valuable tool for Minuteman Missile to expand educational programming. As a relatively remote site with a very small population in the surrounding area the park has fewer on-site visits by schools due to distance and weather than at other National Park units. With distance learning, the education rangers at Minuteman Missile are able to tell stories of the Cold War and America's nuclear deterrent strategy to hundreds of additional students in classrooms all over the nation.

In these programs rangers talk and answer questions live from within the underground Launch Control Center. Students have the opportunity to interact with a National Park Service ranger while learning about the Cold War. Many times this turns out to be a first for classroom participants. Besides educational classes in Cold War history, Minuteman Missile has also conducted current events programs on nuclear arms proliferation, and other related subjects for university level classrooms. In the future, Minuteman Missile will look to better integrate distance learning sessions with National Common Core educational standards and produce curriculum based materials that help students understand the nationally significant history of Minuteman missiles.