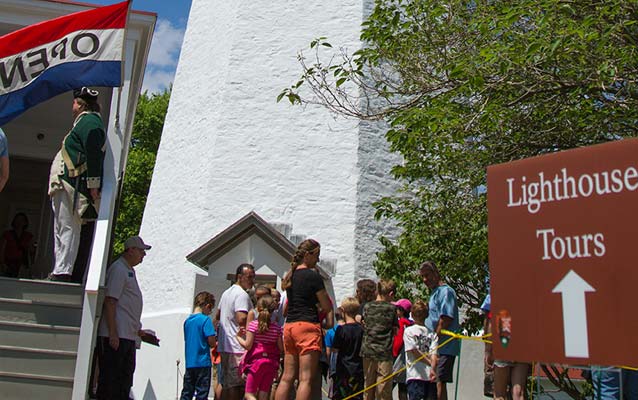 NPS Photo
Quick Facts
GETTING READY FOR 2016:

Action Item:

History Lesson

State:

New Jersey

Year Accomplished:

2014
The Sandy Hook Lighthouse was lighted for the first time on June 11, 1764, and to mark the historic occasion, the Sandy Hook Unit of Gateway National Recreation Area held a celebration event on June 14, 2014. 
The celebration included a fifes and drum corps, remarks by invited dignitaries, Colonial Era children's games, commemorative 250th anniversary souvenirs, lighthouse tours, Revolutionary War re-enactors that interpreted the lighthouse's role during the American Revolution, re-enactors that presented musket and cannon firing demonstrations and musket drills for children on Fort Hancock's main parade ground, and other re-enactors exhibited several 18th Century reproduction bateau trading boats on the bayside beach. A trolley was available to transport visitors to all the different attractions located in Fort Hancock.
Several organizations staffed information tables, including partner organizations such as the Sandy Hook Foundation as well as related history groups such as the Crossroads of the American Revolution National, the US Lighthouse Society, and the New Jersey Lighthouse Society.
The lighthouse continues to guide ships safely around the tip and into New York Harbor, lighting the way for 250 years.