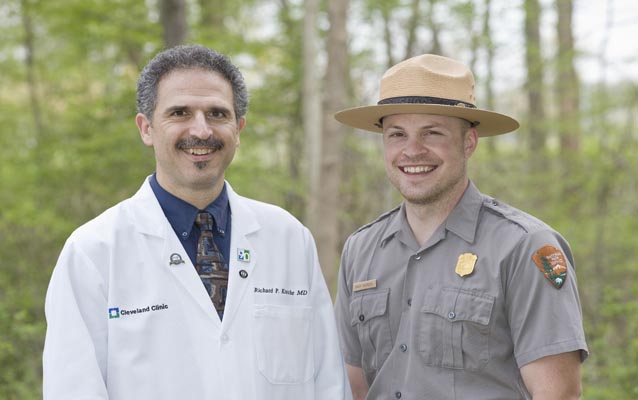 Courtesy Cleveland Clinic
Quick Facts
GETTING READY FOR 2016:

Action Item:

Take a Hike, Call Me in the Morning

Year Accomplished:

2012
In summer 2012, Superintendent Stan Austin worked with one of Cleveland's largest employers, the Cleveland Clinic to launch a pilot program "Walk with a Doc and a Ranger" at Cuyahoga Valley National Park. 
A monthly morning hike was offered with Richard Kratche, M.D., medical director of Cleveland Clinic Twinsburg Family Health and Surgery Center, and a park ranger for a casual three-to-five mile walk. Participants were able to learn more about health issues, improve fitness, and enjoy their national park. They were able to choose their distance and walk at their own pace. Over the course of the three programs approximately 22 people attended each program.
Both organizations are committed to continuing to pilot in summer of 2013 and possibly adding the Cuyahoga Valley Scenic Railroad for a "Ride the Rails, Hike the Trails" option.