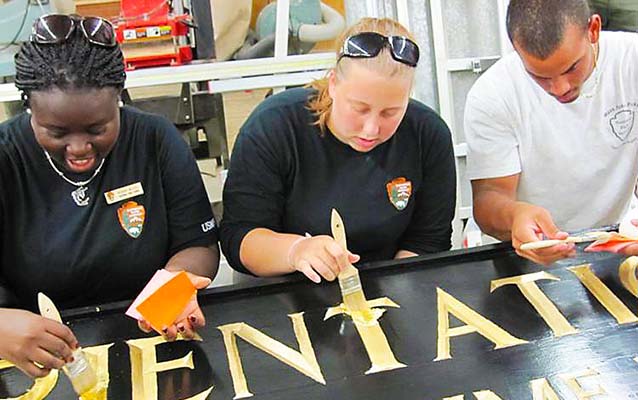 Essex NHA
Quick Facts
GETTING READY FOR 2016:

Action Item:

Step by Step

Also Promotes:

Live and Learn

State:

Massachusetts

Year Accomplished:

2012
Over the course of six weeks this summer, Dominican American middle school students from schools in Salem, MA, met at The House of Seven Gables to learn, in Spanish, about the untold stories - past and present - connecting their homeland island in the Caribbean with the historic sites in Salem.  Students visited the Salem Maritime National Historic Site, the Peabody Essex Museum, and the Salem Public Library, among others, to research the region's Caribbean connection.  This past fall, another group of students met in an afterschool program at Nathaniel Bowditch School to explore historical themes, as well as personal themes of being Latino, cross-cultural relationships, and family perspectives on adapting to a new country.  As a capstone to their experience, students were able to engage their whole families and the wider Latino community through presentations on their learning experience. 
The National Park Service's Regional Visitor Center in Salem is now celebrating the photography and other creative works of the students in an exhibition titled Making the Caribbean Connection, on display through February 2013.  This exhibit focuses on the historic connections between the City of Salem and the Dominican Republic through immigration and trade.  The Visitor Center, a partnership between Essex National Heritage Area and the NPS, is located in downtown Salem and is the main contact station for visitors to the park and the region.
Funding for the student program was provided, in partnership with The House of Seven Gables, through an America's Best Idea Grant from the National Park Foundation.  The grant program funds park projects designed to connect diverse, under-engaged populations throughout the United States with their national parks in innovative and meaningful ways.
Making the Caribbean Connection is just one component of a much larger youth engagement strategy underway at the Essex NHA.  For the past four years the Heritage Area has partnered with Salem Maritime NHS and Saugus Iron Works National Historic Site to provide community employment opportunities and develop future park leaders through the Youth Summer Job Corps program.  Additional funding this summer was received from the TD Charitable Foundation and work expanded to include local community partner, The Trustees of Reservations, through Appleton Farms, the oldest continuously operating farm in the country. 
The summer job program engages youth ages 14-18 in what is for many their first job experience.  Students work for 8 to 12 weeks each summer under the supervision of NPS staff and rotate through a variety of jobs including maintenance, administration, visitor services, and interpretation and are given assistance on how to prepare for work, workplace expectations, resume preparation, and career development.  Some of these students have been hired as full-time NPS employees following their program completion.  "The program," says Annie Harris, Executive Director of the Essex NHA Commission, "strengthens our mission, and that of the National Park Service, to promote our natural, cultural, and historic resources while we engage students across the region."