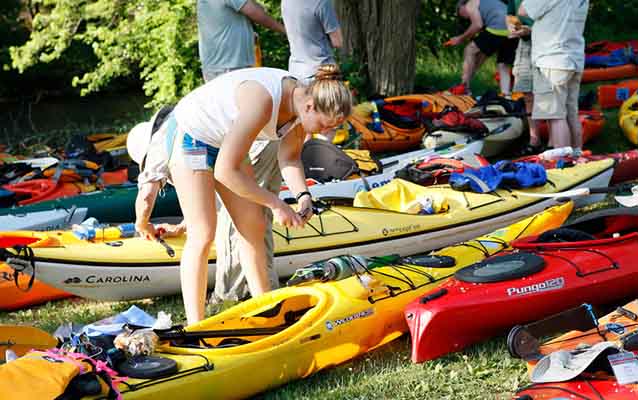 Jeremy Quant
Quick Facts
GETTING READY FOR 2016:

Action Item:

Parks for People

Also Promotes:

History Lesson

State:

Pennsylvania

Year Accomplished:

2013
The Schuylkill River NHA hosted its 15th Annual Schuylkill River Sojourn earlier this month, with a focus on the theme, "A Civil War Odyssey."  The event, which drew over 100 paddlers of all ages and abilities, is a week-long journey down much of the 128-mile river from Schuylkill Haven to Philadelphia's Boathouse Row.  Paddlers not only experienced being up close to the river resources, but also had the opportunity to reflect on programming that highlighted the role the Schuylkill Valley played during the Civil War. 
The Civil War programs help the heritage area advance its mission of educating the public about the region's history.  The Schuylkill connects three National Park units: Hopewell Furnace NHS, Valley Forge NHP, and Independence NHP.  Partnering with the NHA has allowed the NPS to reach new and diverse audiences outside their Park boundaries. One of this year's presentations featured Superintendent Bob Kirby from Gettysburg NMP talking about the park's commemoration of the 150th Anniversary of the Battle of Gettysburg. There was also a one-woman play from Hopewell Furnace NHS on the Furnace's role in the Civil War.
The Sojourn also provides opportunities for a diverse range of partners and supporters of the river and the heritage area.  U.S. Congressman Charlie Dent (R, PA-15), joined the group on the river for a day and expressed his support for the efforts of the NHA over the years.  According to Laura Catalano of the Schuylkill River Greenway Association, there were more than 70 partners involved with the Sojourn this year, and they are critical to the success of the week-long event.
Being on the river also instills a strong sense of environmental stewardship in participants, says Allan Quant, Lead Guide at Canoe Susquehanna, who has led the Schuylkill Sojourn since its beginning: "People experience the river once and by the following year they've become ambassadors and bring a friend; then these people start to lead their own trips on the river and develop their own watershed protection groups.  Folks get recharged on these trips and are transformed into advocates for keeping our waterways clean and safe for future generations."
Catalano agrees: "The amazing thing is that people come away from the Sojourn, even if they only paddle for one day, with a different view of the river and our shared history.  Research has shown that people who paddle a river are more likely to become stewards of that important resource.  They establish a meaningful connection for years to come."