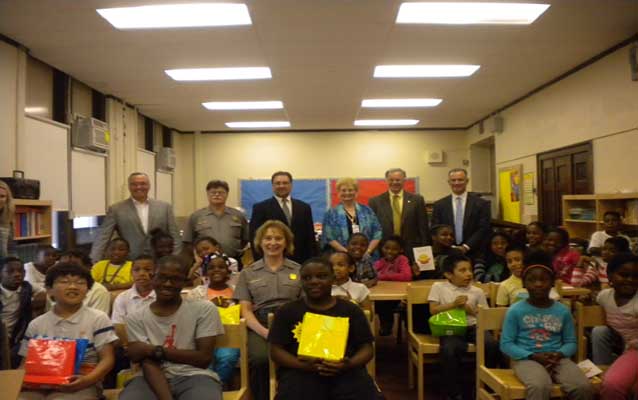 (Independence National Historical Park)
Quick Facts
GETTING READY FOR 2016:

Action Item:

Live and Learn

Also Promotes:

A Class Act

Year Accomplished:

2014
The National Park Service in Philadelphia, PA led a Junior Ranger Program for the fifth grade students at Spring Garden Elementary School for over twenty years. These 5th grade students are enrolled as Junior Rangers at their closest national park, the Edgar Allan Poe National Historic Site.  Activities throughout the year include visiting the Edgar Allan Poe House, volunteering to improve the gardens at Poe's home, studying our nation's founders at Independence National Historical Park, learning about the coastal ecosystem at Cape May and removing invasive crawfish at Valley Forge National Historical Park.
This year, thanks to a generous gift from park partners, these students also got to distribute books to all the students at Spring Garden Elementary School.  At a Book Give Away on May 16, Independence National Historical Park joined the Friends of Independence NHP and Duffy Books to help the Junior Rangers give away 980 books to their fellow students.
The school welcomed Dr. Richard Quest, President, Duffy Books in Homes USA, Inc., Ed D'Alba, Board Vice-Chairman of the Friends of Independence National Historical Park, and Duffy Books Sponsors Frank Bolte, Chief Administration Officer, BDP International, and Greg Howard, CEO, CaroTrans International.   Through this generous donation, the fifth grade Junior Rangers provided all Spring Garden students with free books to take home, keep, read and enjoy.