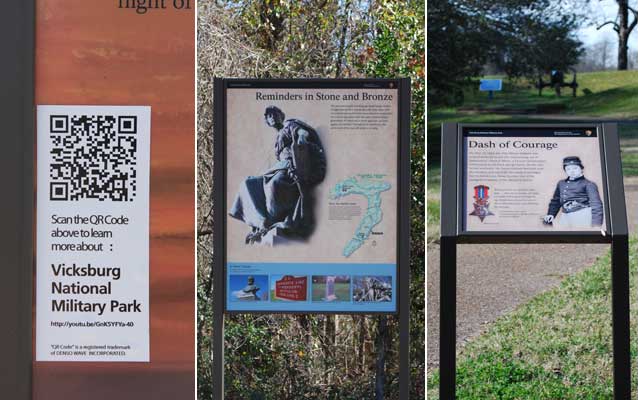 NPS Photos
Quick Facts
GETTING READY FOR 2016:

Action Item:

Go Digital

Also Promotes:

Out With the Old

Year Accomplished:

2012
The new wayside program includes several unique features.  Original color artwork depicts the historic landscape one hundred and fifty years ago exactly where the visitor is standing.  Many of the waysides are also fitted with quick reaction, or "QR", codes.  Visitors with smart phones equipped with a scanner application, can scan a wayside to view the retired park historian, Terry Winschel, providing a more in-depth description beyond that offered by the wayside. Vicksburg is one of the first national parks to utilize this technology.

Staff is also very excited that the waysides are designed to help our visually-impaired visitors enjoy the park.   The park now has state-of-the-art portable audio units that will allow these visitors to experience the battlefield by listening to brief audio descriptions of each stop.  These portable units incorporate GPS technology that automatically activates as a visitor reaches a particular wayside exhibit.  Two of the panels also include three-dimensional tactile models to encourage the visually impaired visitor to touch and "see" trenches and topographical features.

In addition to their role in interpretation, some of the wayside exhibits serve more practical purposes.  These waysides provide information about park facilities, services, and management policies.  They alert visitors to safety or resource management issues at the point of concern or environmental impact, and can graphically emphasize issues or explain the reason for the policy.

Another component of the project was the placement of new directional and attraction signs throughout the park.  This new "wayfinding" system is intended to make it easier for visitors to navigate through the park and to find sites of interest.

This Civil War Sesquicentennial project was made possible because of funds returned to the park from entrance fees paid by visitors.

For more information about the wayside project, contact Park Ranger Ray Hamel, at raymond_hamel@nps.gov or at 601-636-2199.