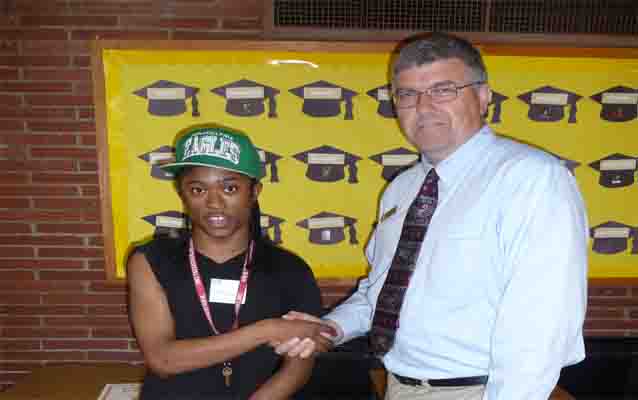 (Independence National Historical Park)
Quick Facts
GETTING READY FOR 2016:

Action Item:

A Class Act

Also Promotes:

Live and Learn

Year Accomplished:

2014
This spring, Independence National Historical Park hosted three Spark students in internships at the park.
Spark, a national nonprofit with offices in San Francisco, Los Angeles, Chicago, and Philadelphia, offers a unique program that re-engages underserved middle school students in their education through hands-on apprenticeships with schools and workplaces.  Spark's mission is to provide life-changing apprenticeships to youth in underserved communities across the United States is accomplished by matching 7th and 8th graders with mentors working in career fields aligned with the students' strengths and interests.
Students worked in the park's special events, maintenance and administrative offices, learning what it means to work for the National Park Service. At the end of the four month program, the students presented final projects to their classmates, sharing what they learned and how they applied their particular interests and skills to their work. One INDE Spark student created a video that offered historical interpretation of park sites through song and dance. Another gave a presentation that made use of newly acquired power point and presentation skills to highlight the value of the resources at the park. The third created a presentation that included an Asset Inventory list and highlighted the main attractions and historical significance of the park. 
The park's involvement in this program provided in-depth, hands on experiences for these students that will stay with them throughout their education, and hopefully inspire them in new and interesting ways.  Park staff are looking forward to work with the next set of students in the fall.