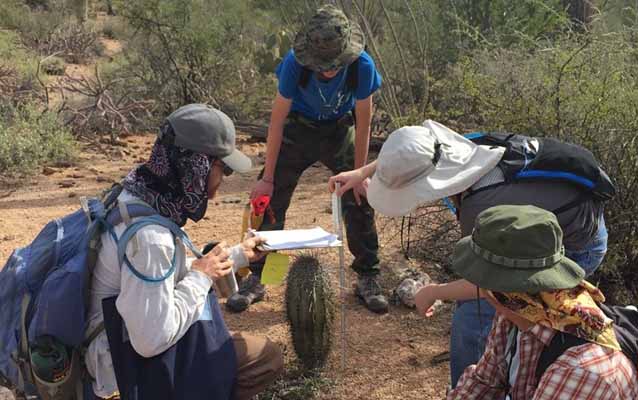 NPS Photo
Quick Facts
GETTING READY FOR 2016:

Action Item:

Next Generation Stewards

Also Promotes:

Step by Step

State:

Arizona

Year Accomplished:

2016
In celebration of the NPS Centennial, Saguaro National Park recently completed a successful citizen science program monitoring long-term saguaro plots called the Centennial Saguaro Survey. Over 475 volunteers from all over the United States contributed over 3000 hours of service to gather information about the ever changing cactus forest. Funding for this project was provided by the NPS Climate Change Response program and Friends of Saguaro National Park.
Volunteers were members of local schools, local non-profits, national conservation corps, alternative spring break groups, universities, and a national corporate company. 75% of all participants were under the age of 25, achieving the park's goal of reaching out to the younger generation and future stewards of our public lands. All groups had one thing in common, to gain knowledge of the Sonoran Desert, saguaros, and how we can protect this iconic plant for future generations.
Volunteer citizen scientists studied saguaros on plots throughout Saguaro National Park that varied in size, elevation, location, and aspect.An important goal was to understand recent establishment of saguaros and how the plant may be impacted by climate.Groups mapped, measured the height, and counted arms and bird holes on over 8700 saguaros! The data that was collected was compared to previous collected data and data collected during the Centennial Saguaro Survey.
Saguaro National Park couldn't be more appreciative of the amount of volunteers who participated in this citizen science program. This program has shown the park how dedicated local younger citizens are about protecting our parks in the face of a rapidly changing environment.