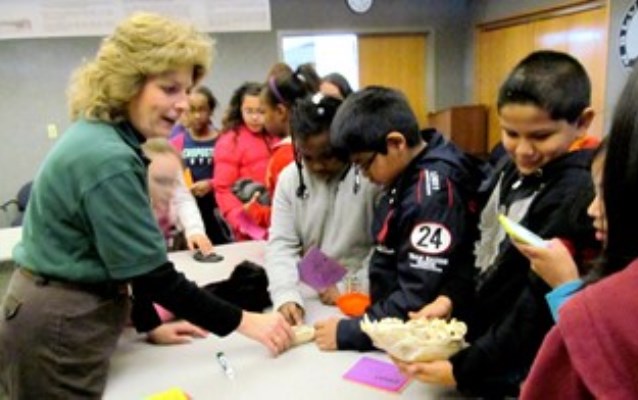 NPS Photo
Quick Facts
GETTING READY FOR 2016:

Action Item:

Live and Learn

Year Accomplished:

2013
During the 2012-2013 winter season, 573 classrooms across the Blue Ridge Parkway region were visited by park rangers, sharing natural and cultural resource lessons and planting seeds in young minds about the importance of stewardship and our country's national park system. The Parkway's Parks As Classrooms (PAC) program wrapped up another record year of service with park rangers making over 40,000 student visits contact from December to April. "Rangers visit classrooms in schools all along the Blue Ridge Parkway from November until April. They provide programs for students that focus on the area's natural and cultural significance and meet the teacher's curriculum standards," explained Parks as Classrooms ranger, Amy Renfranz.
 In recent years District Interpreter, Michele Maertens and her small team of ranger educators at the southern end of the parkway have gone one step further and "adopted" the entire fourth grade at Emma Elementary, a Title One school, in Asheville, North Carolina. For four months, the rangers visited the students in their classrooms monthly. This year, ranger visits culminated during an April 2013 the fourth grade students and their teachers took part in a special field trip to the Blue Ridge Parkway's Visitor Center.
 Students and teachers alike also have praise for the program. Karen Witten, an Emma Elementary classroom teacher, explained that, "The rangers always bring activities and materials…many things that we, as teachers, do not have. The kids look forward to it every month, and it really helps the teachers reinforce subjects. And I think the program helped them to prepare for their end of grade science test." 
 With financial support from parkway partner, the Blue Ridge Parkway Foundation, PAC programs are offered free of charge to students and schools. Since 1998, the Blue Ridge Parkway Foundation has contributed over $990,000 to the park in order to hire Parks as Classrooms rangers and to purchase education supplies.
 In 2013, the Parkway also began the process of analyzing and evaluating its PAC program. The Parkway hired a seasonal position to provide an overview of the PAC program in each Parkway district by documenting, describing, and assessing the program as it is currently operating. The project also includes a review of the program's audience, lesson plans and programs offered. Parkway managers and interpretive staff will use the information to develop a baseline and make strategic planning decisions about the future of the program on the Parkway.