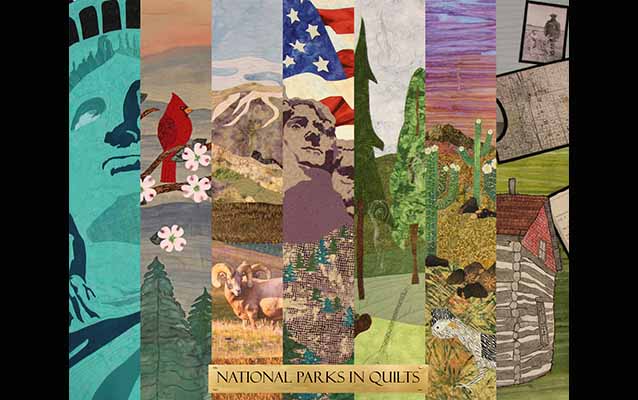 NPS photo
Quick Facts
GETTING READY FOR 2016:

Action Item:

Arts Afire

Also Promotes:

History Lesson

State:

Arizona

Year Accomplished:

2016
Saguaro National Park displayed 13 art quilts created to celebrate the centennial of the National Park Service during February at the Arizona State Museum, on the University of Arizona campus. The quilts were created by Fiber Works, a group of textile artists from the Lincoln-Omaha, Nebraska area. Fabric artist, Peg Pennel created one of the 13 quilts using Saguaro National Park as her inspiration.
"The National Park system is a gift to all Americans. For one hundred years places of historical significance, structures of great merit and many of the natural wonders of our country have been preserved and protected. The National Park system is a symbol of what it means to be an American. We each felt moved by our chosen park or monument to design a piece of fiber art to represent it. We hope others will enjoy viewing the pieces we have created from our hearts" stated Cynthia Levis of Fiber Works.
Parks on the tour include, in order of exhibition, Homestead National Monument of America in Nebraska, Joshua Tree National Park in California, Saguaro National Park in Arizona, Hawaii Volcanoes National Park in Hawaii, Statue of Liberty National Monument in New York, Wolf Trap National Park for the Performing Arts in Virginia, Wind Cave National Park in South Dakota, Mount Rushmore National Memorial in South Dakota, Glacier National Park in Montana, Rocky Mountain National Park in Colorado, Shenandoah National Park in Virginia, Everglades National Park in Florida, and Jefferson National Expansion Memorial in Missouri.
The schedule for this exhibition can be found on https://www.nps.gov/home/centennialquilts.htm  Quilt enthusiasts and all visitors will be able to Find Your Park through this unique exhibit.
The show opened at the Arizona State Museum on February 6 and hung until February 25, when it was packed up and shipped off to Hawaii Volcanoes for the next step on its journey. Arizona State Museum is located on the University of Arizona campus, just inside the Main Gate at Park Ave and University Blvd, in Tucson. The street address is 1013 E. University Blvd. Hours were Monday through Saturday 10 am to 5 pm. Admission was $5 for adults, kids 17 and under were free. Visit http://www.statemuseum.arizona.edu for more information.
For additional information on Saguaro National Park please visit https://www.nps.gov/sagu and participate in the conversation at https://facebook.com/saguaronationalpark or on Instagram @saguaronationalpark.