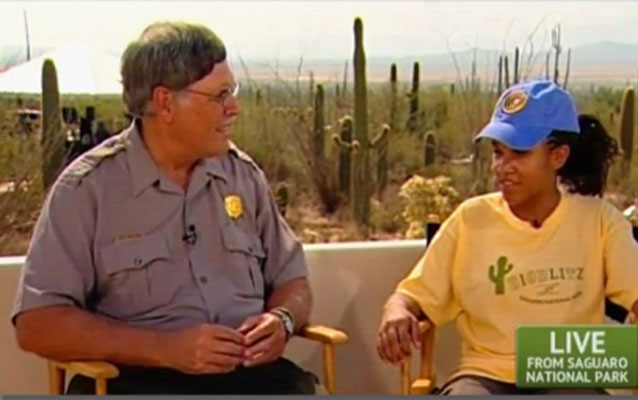 National Park Foundation photo
Quick Facts
GETTING READY FOR 2016:

Action Item:

Live and Learn

Also Promotes:

Go Digital

State:

Arizona

Year Accomplished:

2011
During the 2011 National Geographic BioBlitz, Saguaro National Park was able to bring over 2,300 students into the park for the event.  Millions more were offered an opportunity to participate virtually though a National Park Foundation Electronic Field Trip.
Ranger Jeff Wallner hosted over 100,000 registered participants on two hour long trips across both districts of Saguaro National Park.  Syndicated numbers are estimated into the millions of viewers.
The online presentations were streamed to classrooms all over the country with live coverage direct from the BioBlitz grounds and reports from the field.   Field reports were made by 4th and 5th grade students from Tucson's Manzo Elementary School paired with resource management specialists from the park staff.   Portions of the program took viewers to 4 different locations in the 92,000 acres of Saguaro National Park and introduced plants, animals, and bio-communities from the desert flats to montane forest.   Students also saw live presentations from scientists working at the BioBlitz event and were able to e-mail questions directly to the park to be answered live by a park ranger and University of Arizona entomologist.  So many questions were received that staff spent the second day of the event just answering questions!   The Electronic Field trip lives on at https://www.nationalparks.org/our-work/programs/electronic-field-trip, along with five fun and educational games designed to facilitate learning about the Sonoran Desert ecosystem!
We would like to thank National Park Foundation and Manzo Elementary for their support in this chapter of the BioBlitz event.