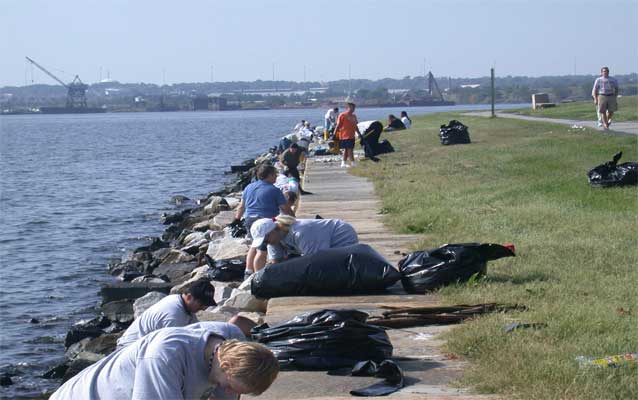 National Park Service
Quick Facts
GETTING READY FOR 2016:

Action Item:

Posterity Partners

Also Promotes:

Next Generation Stewards

Year Accomplished:

2013
Every spring and fall, the National Aquarium Conservation Team (ACT!) recruits volunteers to restore habitat for wildlife, remove debris, and maintain trails at Fort McHenry National Monument and Historic Shrine in Baltimore. Since the National Aquarium took over stewardship of the marsh and cleanup of the park's historic Seawall Trail in 1999, volunteers have helped collect nearly 600,000 pieces of trash and debris!
On Saturday April 27th, 115 volunteers participated in a Spring 2013 Fort McHenry Field Day. After 5 hours of work, this remarkable group of dedicated volunteers removed over 15 tons of trash. This bi-annual event is more than just a debris cleanup. Work includes trail maintenance, light construction, or planting native flowers in our rain and butterfly gardens. This work all adds up to creating a valuable green space in the heart of Baltimore City that is utilized by hundreds of species of birds, reptiles like box turtles and diamondback terrapins, and aquatic critters like juvenile blue crabs and small fish. The park's Seawall Trail and the marsh area are cleaner habitats for native animals to live and a great place for student groups from the city and surrounding counties to learn about ecology.
This event would not be possible without the support and contributions from the Baltimore National Aquarium, the National Park Conservation Association, the Maryland Port Administration, and Steinweg Baltimore.