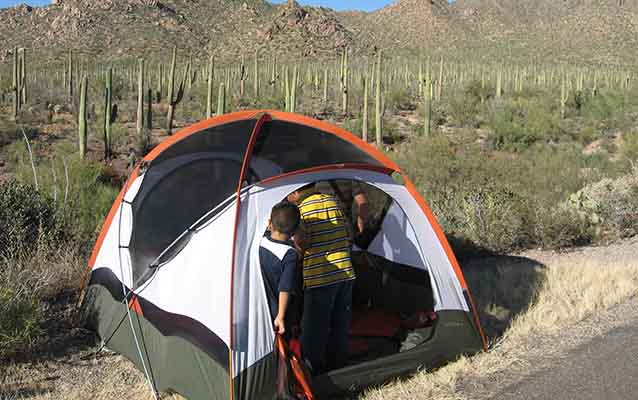 NPS Photo by Perry Grissom
Quick Facts
GETTING READY FOR 2016:

Action Item:

In My Back Yard

State:

Arizona

Year Accomplished:

2012
In October 2012, Saguaro National Park and the Intermountain Region hosted an overnight family camp at Saguaro National Park, with support from Western National Parks Association, the National Park Foundation and Alpino Mountain Sports.  Families were recruited to participate in this inaugural program from nearby  Roskruge K-8 School, for most participants this was their first time visiting the park. This program was modeled off the successful Camp Moreno project that originated in Rocky Mountain National Park.
The focus of this program was to bring diverse youth and their families-who do not have a tradition of visiting national parks-to the parks as active participants. They were provided with an opportunity to interact one-on-one with park rangers and volunteers, helping them to overcome the fear of the unknown that many people of color experience regarding the outdoors. The Camp Moreno Project is "Camping 101" for minority first-time campers. From day one of the weekend program, participating campers were involved in all aspects of camping preparation. Fun family activities in the outdoors and outdoor ethnic food preparation were also demonstrated because the overall goal of Camp Moreno was to help underrepresented families understand the fundamental "value" of these experiences for their families and that in the future they could easily and cost effectively replicate those camping experiences on their own-without the need for special assistance. 
The youth and their families returned from this program with new awareness about the national park and opportunities for outdoor recreation and knowledge about how to do it themselves and then spread the word among their peer groups. Since the campout, many of the kids have returned to the park to engage in other activities, such as Jr. Ranger Wilderness Exploration Camps.  The park plans on continuing to host future family campouts and family fun nights based-on this successful model.