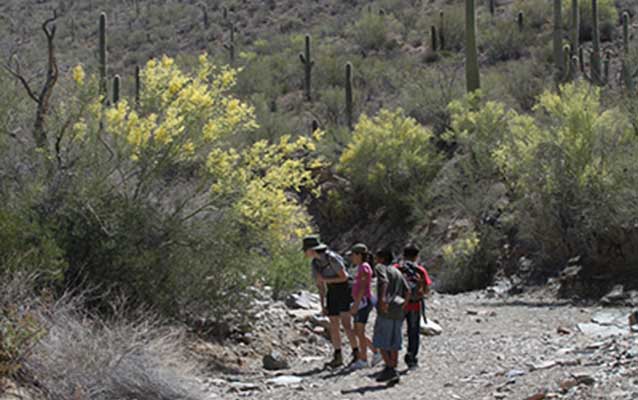 Photo courtesy of Parks in Focus, Udall Foundation.
Quick Facts
GETTING READY FOR 2016:

Action Item:

Stop Talking and Listen

State:

Arizona

Year Accomplished:

2012
Saguaro National Park (NP) is comprised of two districts that are separated by a large metropolitan area, Tucson, AZ. Bookending a city with public lands makes the park an interesting case study to explore best practices in engaging both urban and rural audiences. Although Hispanic ranchers originally homesteaded much of the park, today members of the local Hispanic community rarely visit Saguaro NP. Visitor traffic studies within the last decade have shown that Saguaro NP's Hispanic visitation represents less than 2% of the park's visitors, whereas the local community demographics approach 40% Hispanic. The park is currently developing a plan to engage the local Hispanic community as one of its top priorities.
In order to guide Saguaro NP's Hispanic and community engagement plan, in February 2012, in cooperation with the University of Idaho's Park Studies Unit, a series of 8 bilingual focus groups were conducted in the greater metropolitan Tucson area with 43 members of the local Hispanic community participating. Participants were compensated for their time and travel, with park partners Western National Parks Association and Friends of Saguaro National Park funding this research. Focus groups data were recorded and transcribed, analysis of these data resulted in two publications: a project report from the University of Idaho, and the park's Student Career Experience Program (SCEP) Community Engagement Coordinator's University of Arizona MA Geography thesis.
Results from the focus groups provided many useful insights into how the park can better serve the local Hispanic community, including providing transportation to the park, modifying facilities to better accommodate families, providing bilingual programming, increasing the park staff's presence at community events, and promoting the park's recreational opportunities through campaigns targeted at the Hispanic community. Saguaro NP will use the results of the focus groups to inform the park's community engagement programming and has opened up new dialogues with the Hispanic community for future park planning efforts.