Camp Saxton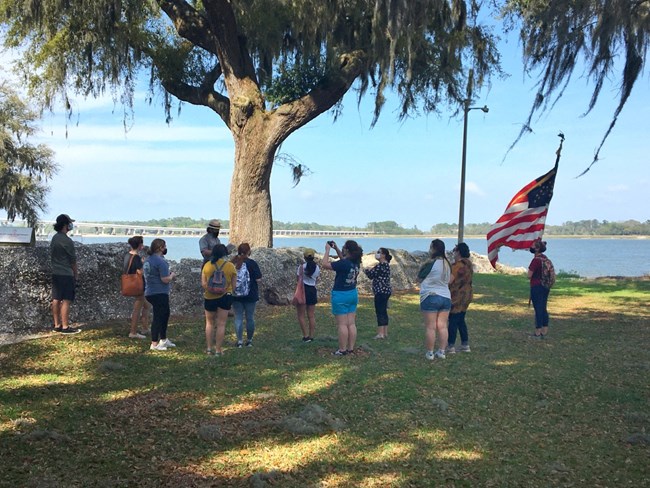 Camp Saxton was established in the Fall of 1862 on the grounds of the John Joyner Smith Plantation on Port Royal Island. It was home to the 1st South Carolina Volunteer Infantry, later renamed the 33rd United States Colored Troops, which was made up almost entirely of formerly enslaved African Americans from the coastal islands of South Carolina, Georgia, and Florida. On January 1, 1863, the Emancipation Proclamation was read to the men of the regiment, along with hundreds of other formerly enslaved people, in a stand of live oak trees at the site of Camp Saxton.

The best way to explore Camp Saxton is by visiting Beaufort County's Fort Frederick Heritage Preserve. Fort Frederick was a small fortification built by the British in the 1730s, however, during the Civil War, the tabby ruins of Fort Frederick served as the foundation for the dock at Camp Saxton. Many of the participants in the Emancipation Day celebration came ashore at the ruins of Fort Frederick, and noted it as a landmark near Camp Saxton. The Fort Frederick Heritage Preserve is a county-managed passive park located at 601 Old Fort Road, Port Royal South Carolina. Please be respectful of nearby private property, as the property managed by the United States Navy. Please note that the traditional location of the Emancipation Oak and historical marker are located within the boundaries of the Naval Hospital Beaufort and are not accessible to the general public.

Park rangers periodically lead tours to Fort Frederick, exploring the Camp Saxton story. Visit our calendar for more information before you visit. In addition, the Town of Port Royal has rebuilt Pinckney-Porter's Chapel, a Reconstruction Era Freedman's Chapel. Pinckney-Porter's Chapel is located within the Naval Heritage Park just outside the entrance to Naval Hospital Beaufort. Exhibits at the chapel share the story of Camp Saxton and the soldiers who trained there, as well as a history of the chapel itself. On Saturday mornings, during the Port Royal Farmers Market, a park ranger is available at Pinckney-Porter's Chapel to answer questions about the site.
Last updated: July 22, 2023